Artificial intelligence, autonomous vehicle technology and the Internet of Things are all set to revolutionise the moving sector. Business futurist Patrick Schwerdtfeger gives us a taste of what those changes may look like ahead of his keynote speech at the 2019 FIDI Conference
Patrick Schwerdtfeger just might have the best job in the world. He spends his days researching the things he loves most, travelling the world, meeting 'incredibly smart and successful' people, learning about different cultures and business environments, and sharing his research at 'some of the nicest destination properties imaginable'.
The business futurist's next stop is the 2019 FIDI Conference in Amsterdam, where he will speak about the technological revolution that the logistics industry is currently experiencing, from blockchain to AI and the Internet of Things. According to Schwerdtfeger, these developments have the potential to change the moving sector forever – and some will occur in just a few years.
Critical role for data
So, exactly what role will data play in this technological revolution? Schwerdtfeger explains: 'Data is playing a critical role, and optimisation is the name of the game. Artificial intelligence – referring simply to data analytics' platforms that possess the capacity to learn – will tackle one area after another, fully optimising the transport and distribution processes in their wake.'
Schwerdtfeger believes this will be driven by the 'Amazon effect', with the industry expected to keep pace. If it fails to do so, it could lose market share. He adds: 'Other non-traditional and well-financed Uber-like competitors will begin offering moving and transport solutions and stealing revenue from adjacent markets. Those who best use data will be most likely to thrive in the future.'
"Other non-traditional and well-financed Uber-like competitors will begin offering moving and transport solutions and stealing revenue from adjacent markets"
Threats such as those posed by 'Uber-like' competitors are one example of disruptive technological innovation that Schwerdtfeger believes is likely to transform the sector, but he can foresee incremental technology disruption challenges around data collection, too.
He advises moving companies to accumulate and leverage data better by increasing traceability and transparency for their customers.
While these issues are important to recognise, Schwerdtfeger says the biggest technological disruptor set to affect the sector is self-driving vehicles – a development that could occur in as little as two years.
'There are three distinctly different environments where these vehicles will operate,' explains Schwerdtfeger. 'The most complex, involving the most number of potential obstacles, is city driving. In the middle, involving fewer potential obstacles, is long-haul freeway driving. And finally, agricultural farmland has the fewest number of obstacles. Autonomous tractors are already operating today. Long-haul autonomous trucks will probably be legalised in one US state or another in 2020, and autonomous city-driving vehicles will probably be on the roads by 2021 or 2022. Once this final step is reached, large-scale disruption will affect many different industries – including the moving business.'
Autonomous trucks are expected to eliminate the current shortage of truck drivers experienced in many parts of the world, reduce trucking rates and increase demand for transport. Higher demand coupled with reliable and inexpensive transport options will shift the focus to logistics, optimisation and data. According to Schwerdtfeger, those companies that can maximise convenience, traceability and transparency will outperform within their industry segments.
This is not a time to fear the future, Schwerdtfeger says, but to embrace the changes. He says: 'Most business executives are afraid of the future, and they instinctively take a defensive posture with respect to possible disruptions within their industry. This is the wrong approach. Business executives need to stay on the offensive.
'Many businesses will "get disrupted" in the next few years, but all of those business fatalities create opportunities for other businesses to deliver better solutions. Business executives need to look at "adjacent markets" to find new revenue opportunities, continuously test new "minimal viable products" (or services) for market potential, and aggressively pursue viable innovations.'
So, where are the opportunities for business leaders in moving? According to Schwerdtfeger, they are in:
(1) The efficient use of Internet of Things sensors
(2) The integration of better data analytics systems
(3) Facilitating ecosystem-wide blockchain deployment
(4) Delivering effective and accurate data to customers of moving services
He adds: 'The bottleneck is not the data, but the use of the data. The same is true for software. Moving companies need to understand what data they can access, and then leverage that data as quickly as possible. Similarly, moving companies need to understand the capabilities of existing software, and utilise that software as much as possible. ERP and CRM companies often admit that their customers only use a tiny fraction of the capabilities already developed within the platform. The lowest-hanging fruit is to get better training on the software you have already paid for.'
Digital fascination
Schwerdtfeger has become knowledgeable on new technology and how this could affect businesses of all types by subscribing to more than 100 YouTube channels and sifting through newly released videos from those he respects. He also listens to many audio books while travelling, using the new developments or intriguing insights to create trend narratives.
'I am endlessly fascinated with the technological developments emerging around the world,' says Schwerdtfeger. 'I truly do love what I do.'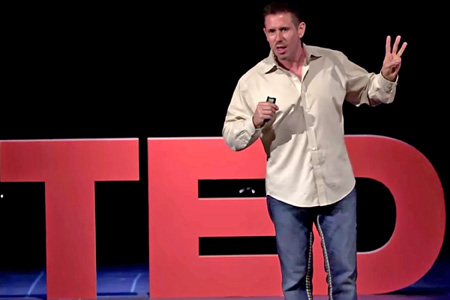 His life was transformed in 2006, when he started a podcast that he describes as doing 'quite well' – at one point it was the third most popular finance-related podcast on iTunes. He explains: 'I was in real-estate finance at the time, and my "Beyond the Rate" podcast explored the dangers of Alt-A and subprime mortgage products. When the "mortgage meltdown" started, I was interviewed by many national media outlets, and I was then asked to speak at events as well.
'Later, I was asked to discuss the marketing potential of podcasts, and that topic led me to digital marketing and social media. Barack Obama's campaign was just getting started, and everybody wanted to learn more about social media. My "Social Media Victories: Real Businesses, Real Campaigns, Real Results" programme took me all around the world, and that soon led to a broader focus on technology trends.
He adds: 'There is no distinction in my life between work time and personal time. It all blends together. I am always trying to incorporate my research into my personal life, particularly with my financial investments, but also with the way I organise my own activities and time management.'
Patrick Schwerdtfeger will present more in-depth insights on the impact of technology – particularly blockchain – when he gives his keynote speech, 'Technology trends and disruptive innovation', at the 2019 FIDI Conference. The event will take place on Monday 1 April at 11.15am in the Grand Ballroom.
About Patrick Schwerdtfeger
Patrick is a 'business futurist' and author of Anarchy, Inc.: Profiting in a Decentralized World with Artificial Intelligence and Blockchain, which is available on Amazon.