Sitting on the 'ring of fire' in the Pacific Ocean, Japan has suffered its fair share of natural disasters. But that doesn't stop the world's largest companies settling along its shores. As FIDI looks ahead to its conference there in 2020, Andrew Mourant delves into the opportunities and the challenges
Japan has long been one of the world's great economies, yet its resilience is constantly tested by the forces of nature. Sitting on the 'ring of fire', with earthquakes never far away, it faces challenges that would test the endurance of any society. But few populations are more industrious or inventive than the Japanese. The country's corners may have been shaken to destruction and engulfed by tsunamis, yet it remains a hotspot for the world's biggest companies.
The world is always keen to do business in Japan. Asian Tigers Mobility has operated there for more than 20 years, less than some of the country's other principal movers but long enough to have ridden the switchback of extremes. 'We've seen cyclical changes,' says Japan country manager Nick Masee. 'Since 2008 in particular, we underwent dramatic downsizing in the Japanese market due to international banking.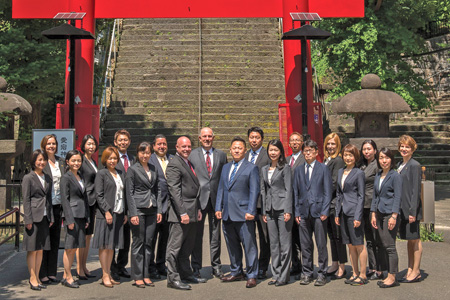 'Just as things began to stabilise in early 2011, Japan was impacted by the triple disaster of a massive earthquake, a tsunami created by the earthquake that hit a large nuclear plant at Fukushima. It resulted in a surge of families wanting to leave Japan, putting pressure on the industry here to cope with unprecedented demand over several months.'
Despite Japan's formidable powers of recovery, some demonic force of nature will always blow things off course. 'The typhoon that impacted Kobe a year ago still has lingering effects on the port area and surrounding warehousing operations,' says Masee. 'It's reduced capacity of the logistics industry as a whole.'
"Nippon Express's optimism is based on the conviction that global business will become 'more and more important' for most industries in Japan"
The impact of disasters on movers going about their business is immediate. In such a developed country as Japan, roads and bridges can be repaired, often at a speed that would astonish many. Yet there's a bigger picture, says Nippon Express' assistant general manager, Katsumasa Ishiyama. While his firm made 'substantial efforts' to recover logistically, it also depended on other factors to get fully back on its feet – the revival of industrial infrastructure, and with it, people's livelihoods. 'That takes more time to recover,' he says.
Whenever the worst happens, Japan swings into action. 'Counter measures will be launched intensively,' says Hiroyuki Hoshino, assistant manager in Yamatane Corporation's international business department. 'With regard to logistics, priority is given to the transportation of relief supplies. If a large-scale disaster occurs, even in a logistics company, the emergency response HQ will be set up immediately to check the safety of employees and the status of stored cargo. After confirming the damage situation of the road and the railway, we have a system that aims for recovery as soon as possible.'
The 2011 events resulted in a long period of outbound moves. 'The aftermath was that companies were reluctant to move to Japan,' says Pascal Latui, moving services manager at Santa Fe Relocation. 'But the trend has gradually shifted and we now see a steady influx of people moving in.'
Remarkably, and against all odds, the day after the tsunami struck on 11 March 2011, Yokohama System Mover was going about its business, packing goods for one of its customers. It was, Koji Nogami, sales manager, admits, 'a very tough job'. Thereafter, the company found itself in uncharted territory. 'After the earthquake and the nuclear power plant problem, many expats were evacuated. As a result, when the owner was absent, there were many cases in which the apartment concierge, in contact with the owner, worked on moves.'
The removals industry is, he says, 'very vigilant' about natural disasters and heavily reliant on the government's system of alerts – 14 categories of information on earthquakes, tsunamis, volcanoes and weather.
Upheavals sharpen competition, too. 'Despite challenges in the market, we focus on growing market share to offset business downturns,' says Masee. 'It's put an emphasis on Asian Tigers striving to improve processes and find ways to be more competitive.' Despite the knock its business took from the global financial crisis and natural disasters, Asian Tigers decided not to cut staff. Instead, it put renewed effort into business development – something, claims Masee, 'our competitors could not do.'
Asian Tigers' primary sphere of business is international corporate moves into and out of all parts of Japan. It also draws trade from people wanting to move internally. However, the company is less preoccupied than some by wooing business from emerging markets. 'Our focus is on global Fortune 1000 companies, though we do expect the 2020 Olympics to create a short-term increase in demand,' says Masee. In fact, Asian Tigers can turn its hand to all sorts of moves, not least the unusual one-off, such as moving an exhibition of dinosaurs from Japan
to Canada.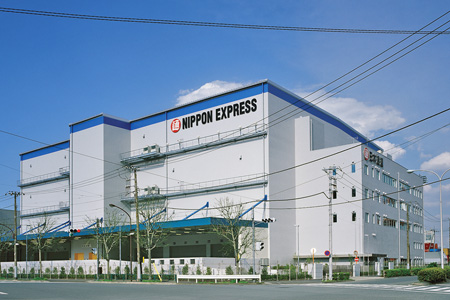 Nippon Express, established in 1937, and a provider of land, sea and air transport services, has a similar business mix. Business levels have remained 'about the same' in recent times. That said, Ishiyama has noticed shifts over the last four years. 'Our leading customers are related to the automotive industry; they've become more interested in quality of service.' China (PR) – unsurprisingly – is an emerging market of growing interest, while 'relatively promising' ones to watch include Myanmar and Vietnam.
Longevity and size give the company a reach that's helped it ride out assorted catastrophes – 'the world's largest global logistics network' with a presence in more than 700 locations. Much of its competitive edge derives from investment in sophisticated IT systems and staff education, such as moving planner training, operation training, and e-learning for compliance.
For Yamatane, China offers strong possibilities. 'Exchanges with China and the Asian region are increasing and these will grow further,' says Hoshino. 'We'd like to strengthen cooperation with FIDI agencies.
'Movements of people, goods and money are active in Asia – the market is expanding. At the same time, major cities in Asian countries have developed and life has become convenient. You can transfer overseas easily, resulting in a small amount of moving packages per case, which reduces the amount of individual handling.'
From among the global giants, Yamatane detects increasing business growth among biotech and telecoms companies. Like others in the trade, Hoshino anticipates more people arriving ahead of the 2020 Olympics. The company's logistics arm operates mainly in Japan, but it is expanding globally, as is its moving business.
Santa Fe's growing business sector – its trade base a mix of international and domestic moves for corporate and direct consumer clients – has, says Latui, seen 'more and more Japanese nationals moving overseas compared with foreigners coming into Japan'. 'We've also been successful in winning new business with large Japanese corporations, which traditionally prefer working with Japanese movers.'
With shipping allowances squeezed and companies worldwide offering staff monetary allowances to sort moves directly, any new business avenue is welcome. Santa Fe is handling 'more and more shipments' from India, mainly for the automotive and IT sector. 'One of our distinguishing points is our focus on technology and using it to make managing relocations much easier,' says Latui.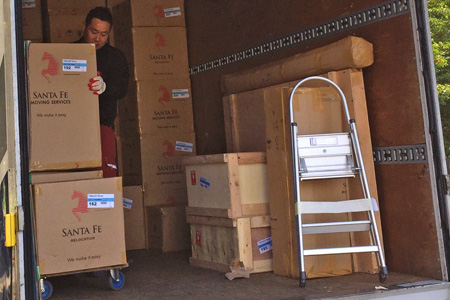 Yokohama has been trading since 1976. In the early days, its main business was household removal for families of the US military in Japan. Its scope has expanded to cover global and domestic moves, with customers varying from expats of foreign and Japanese companies to locals.
'In short, we cover everything as far as household removals are concerned,' says Nogami. 'Over recent years, business volume is quite stable, though we have seen a moderate increase.' This, rather than a significant boost from any new sector, he attributes to the company's overall operational strength – though, as it has for Santa Fe, shipments from India have grown in recent years.
Boosts like that are needed to cope with the demanding nature of an ever-changing world. 'As with Europe's General Data Protection Regulation (GDPR), data protection has become a very sensitive matter in Japan,' says Nogami. 'Also high wage increases in the service industry have increased costs considerably.' Then there are the vagaries of bureaucracy – for instance, where customs used to tolerate including food for personal consumption in a removals package, imports are now severely restricted.
For Yamatane, one of the main industry challenges is keeping hold of a good workforce amid a national labour shortage and ageing population. Its response has been to devise new efficiency measures alongside career development for everyone, whatever their job.
FIDI membership benefits Japanese Affiliates in many ways. 'It helps us explain to customers the nature of our global partnerships,' says Masee. 'Since we compete with several global brands, having a qualified network of experienced and specialised partners covering most major destinations is important. It gives clients peace of mind. It also helps underscore the reliability of our processes and financial stability.'
Much the same applies to Nippon Express – peace of mind, when talking of FIDI, is a recurring phrase. 'We can find qualified movers immediately, and perform door-to-door services in cooperation with other Affiliates,' says Ishiyama. 'FIDI's payment protection plan helps us recover up to 90 per cent of unpaid invoices should a partner go bankrupt or have membership terminated. We can work safely, without anxiety.'
Santa Fe sees membership as a valuable guarantee. 'It's a great selling point when being able to demonstrate that we can provide the same quality of service on a worldwide basis, even where we do not have an office,' says Latui. Limbo sees belonging to FIDI as 'a proof of trust'. 'Without FIDI membership we wouldn't be able to secure a move from one country to another. And we also worry less about payment collection.'
Japanese workers are renowned for their industry and commitment to the job. Yet, even in Japan there are some prepared to cut corners – and prices – if it means landing the job. 'There are times when I shake my head at what some companies do,' says Masee. 'Yet the competition does keep us on our toes and looking for ways to provide a little bit more for the same, or a bit less.'
In the face of significant under-cutting when it comes to pitching for a quote, Nippon Express is at pains to emphasise 'reasonable price and qualified service'. 'Price is important, but well-managed moving services more so,' says Ishiyama.
Though Santa Fe has seen the moving business become ever-more competitive, it's confident that its brand name, 'dedicated personnel', and investments in technology enable it to remain a major player. Yokahama refuses to enter any race to the bottom, price-wise, in the interests of upholding service standards.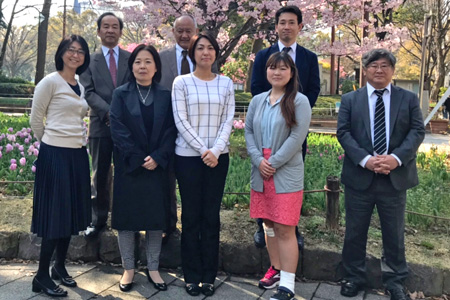 Whatever is thrown at them, FIDI Affiliates are good at finding reasons to be cheerful. 'It's important to maintain a positive attitude even in the face of expected headwinds,' says Masee. Santa Fe sees improvements in the local economy and, says Latui, believes the trend will continue.
Yamatane believes the worst may be over. 'Prices hit rock-bottom but the industry as a whole is tending to raise prices against the background of labour shortages, and we expect them to continue rising,' says Limbo.
While most moving companies expect a short-term boost from next year's Tokyo Olympics, long term, Yokohama believes that constant factors will ensure a good future for the industry. 'Transfer of people outside the country will not disappear,' says Nogami. 'And packaging must be done by hand, so we'll pass on the knowledge we've accumulated over 40 years of experience.'
Nippon Express's optimism is based on the conviction that global business will become increasingly important for most industries in Japan. 'The mobility of technologies, products, mineral resources and human resources is key for development of the economy, environment and society,' says Ishiyama. 'Our business will be affected by these movements.'
FIDI AFFILIATES IN JAPAN
| | | |
| --- | --- | --- |
| ASIAN TIGERS MOBILITY | Tokyo | Affiliate |
| J.LOGICOM CORPORATION | CHIRYU | Affiliate |
| MSE GLOBAL MOBILITY SERVICES | Tokyo | Affiliate |
| NIPPON EXPRESS CO., LTD. | Tokyo | Affiliate |
| SAKAI MOVING SERVICE CO., LTD. | Osaka | Affiliate |
| SANTA FE RELOCATION – TOKYO | Tokyo | Affiliate |
| UNIGROUP WORLDWIDE MOVING | Tokyo | Affiliate |
| YAMATANE CORPORATION | Tokyo | Affiliate |
| YOKOHAMA SYSTEM MOVER CO., LTD | Yokohama | Affiliate |