For a strong local business base, rich cultural attractions and a hub within easy reach of much of Europe, it is hard to think of a better location than Vienna. FIDI Affiliates based in the imperial Austrian capital shine the spotlight on the realities of running an international moving company in this famous city. By Andrew Bennett
With a distinguished history stretching back for centuries, Vienna – once the largest German-speaking city in the world – has a reputation to be envied.
Vienna, which is home to about 1.9 million residents, has long topped global polls for its quality of living including one by human resources consultants Mercer. It even eclipsed Australia's second city Melbourne to become the Economist Intelligence Unit's 'world's most liveable city' in 2018.
While the appealing, high-level living standards draw expats, perhaps of more significance to international moving companies is the city's excellent location within the continent.
Michael Staindl, international director at FIDI Affiliate Lang Worldwide Moving, sees the benefits of Vienna being right at the heart of Europe.
'Budapest, Prague, Zurich, Munich and Ljubljana take almost the same time as going to Salzburg,' he says. 'Within a two-hour flight we can reach almost all the major capitals within Europe.'
Sobolak International's CEO, Reinhold Karpisek, cites another reason for the city's appeal. 'Vienna is the only metropolis in Austria and because the United Nations has one of its four headquarters in the world here, many countries are represented,' he says.
Also good for drumming up international moving trade is the fact that other prestigious organisations including the International Atomic Energy Agency (IAEA) and many non-governmental organisations (NGOs) have chosen Vienna as their base.
Its status as a key hub at a European crossroads is nothing new, of course. Once the seat of the Holy Roman Empire under Ferdinand I, Vienna was also home to the Habsburg dynasty in the era of the Austro-Hungarian monarchy.
This prominent city, whose centre has been designated a UNESCO World Heritage Site since 2001, has long had a powerful influence on Europe's political and cultural history.
'Today, Vienna remains a vibrant international hub, a popular destination for travellers from all around the world, especially due to its rich historical heritage and cultural life,' says Anthony Heszberger, Director of Santa Fe's Central and Eastern Europe and managing director of Santa Fe Relocation – Vienna office.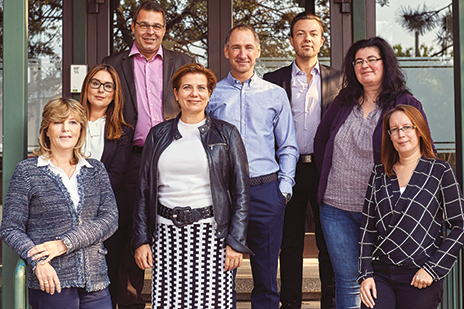 Strong local competition
Business for FIDI Affiliates comes from a mix of sources, the city's strong diplomatic base and the international organisations with headquarters based there, the corporate sector and private customers.
But with nine FIDI-accredited moving companies – and other non-FIDI movers – in the city, competition is always fierce.
Alexander Prohaska, head of international moving at H. Fuchs GESMBH, says: 'The challenge of running an international moving company in Vienna is always in finding how to exceed clients' expectations, because of competition with FIDI Affiliates and non-FIDI movers within Vienna city limits.'
Sobolak International's Karpisek says: 'Since 2008, the corporate market has shrunk and so have all international moving companies in Vienna. The market is saturated and winning business means somebody else is losing it."
Lang Worldwide's Staindl underlines the fact that the business environment is tough, with 'intense' pressure on prices. 'The prices for origin and destination services have fallen by up to 30 per cent, with continuing wage increases, the almost Europe-wide introduction of truck tolls and many other new taxes,' he says.
"Vienna is the only metropolis in Austria…and many countries are represented"
'Many suppliers use the order of the day and offer lump-sum payments without detailed studies of a move or the local conditions. We are facing this development with sustainable quality and digitilisation in almost all areas of our business, to increase our productivity without quality losses.'
A high-quality advantage
The coveted FIDI FAIM accreditation, however, remains a significant advantage, especially for movers chasing blue chip corporate or diplomatic contracts.
At Zdenko Dworak International Removals, CEO and co-owner Hanspeter Rabel says: 'Being part of the FIDI network family gives me the chance to offer our clients a top-quality service worldwide.'
"Vienna is the only metropolis in Austria…and many countries are represented"
Zdenko Dworak handles or manages moves to and from Austria to many locations, including Australia, Indonesia and Pakistan.
According to Rabel, who is also FIDI Austria President, corporate international moves are very important for his company, but business also comes from diplomatic, local and office projects.
At Lang Worldwide, managing director Karin Lang says operating in Vienna means her company must 'take the FIDI quality standards seriously wherever we operate in the world, implement them and place the customer at the centre of our services'.
H. Fuchs' Prohaska adds: 'As most reliable moving companies in Vienna are FIDI Affiliates, we mainly compete with those. Other companies neither offer
our range of service nor the quality to become a
real competitor.'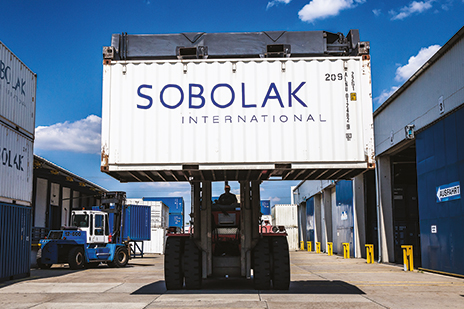 At Santa Fe Relocation – Vienna, Heszberger notes the 'helpful' support of the FAIM Coordination Centre in backing the work of FIDI Affiliates.
He says: 'The set level of service and FIDI industry standards, and the support from the FIDI community give us a stable background for our operations.'
Santa Fe, which has 96 offices globally, also notes that there are 'significantly fewer overseas moves' compared with the volumes of 10 years ago, and most of are within Europe.
Volumes of household goods are also smaller, and the clients are often younger – older generations with families are frequently staying put, rather than relocating.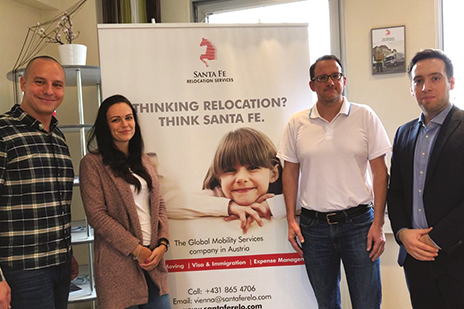 Changes in client profiles
Christoph Hermann, CEO at E.Fall Internationale Speditionsges M.B.H., has also felt the winds of change. 'In the past 10 years, our business changed from mainly big accounts to more private requests, because companies do not offer any moving services to their workers any more.'
E.Fall, which started its moving services in 1936, specialises in moves to and from the United States. This business is certainly used to managing change, and since that founding date 'assume that everything has changed,' says Hermann.
At Zdenko Dworak, Hanspeter Rabel notes an increase in corporate moves, along with local business and office moves in recent years. This FIDI Affiliate does business in markets including Belgium, Switzerland, Russia, the United States and Asia. Moves to and from China are increasing too.
Parking headaches
The streets of Vienna, and especially its celebrated centre, are overflowing with architectural and cultural treasures, making this city a fascinating mecca for tourists.
But the narrowness of some of the historic streets – coupled to rigid parking restrictions – can make life hard for moving crews.
'Parking is always a problem within Vienna, especially in the historic city centre. But the city department where we book a parking permit is always very helpful in offering alternatives, says Alexander Prohaska at H.Fuchs.
He says: 'However, to request and set up a parking permit, we need a minimum of five working days and often a shuttle service is required.'
Sobolak's Reinhold Karpisek notes that 'a lot of time and administration is involved' in securing a parking permit for moves in Vienna, as well as their cost.
But there is another potentially confusing local factor. 'What's interesting in Vienna is that the number of flights differ in reality from those you see on the notices in the building,' he says. 'For instance, somebody says he
lives on the second floor, although the apartment is
on the fourth floor. There are historical reasons behind
it. And because of that other levels have been
introduced, we have a high ground level (hochparterre) and an intermediate level (mezzanine).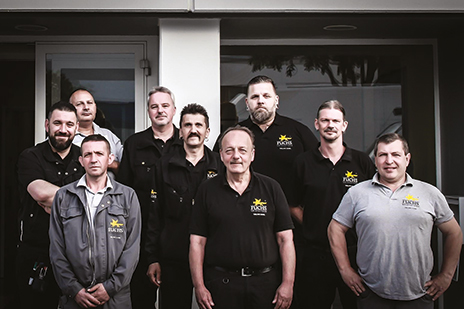 'It is only on the physical third floor that the first floor begins. You can imagine our agents are sometimes surprised when we tell them that!'
Santa Fe's Heszberger says that inner city districts of Vienna are accessible with the necessary permits, and the challenges of Vienna are not unique.
'We also use the common traffic signs to mark our reserved places on the street and Austrian people are usually respectful of the rules; they don't park on the reserved spaces.'
Some FIDI Affiliates in Vienna believe their government could help the international moving business with enterprise-friendly measures.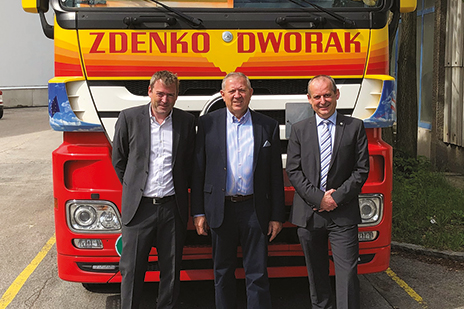 Michael Staindl at Lang Worldwide says that while Europe, including Austria, can be proud of its achievements in recent decades, 'in our dynamic world, it is now necessary to respond more quickly and more flexibly to new challenges. Governments must succeed in combining the outstanding achievements with modern open-business policies.'
Christoph Hermann at E.Fall thinks officials could make administration easier by accepting documents by email to issue tax-free imports into the country.
'Until now you have to send all documents as originals to be accepted by the Austrian authorities,' he says.
"Business comes from a mix of sources, the city's strong diplomatic base and the international organisations with headquarters based there, the corporate sector and private customers"
'And applying for a Grundlagenbescheid (basic decision) can vary from officer to officer. It would be easier to have a general system for applying for this.'
A fabulous location
Whatever challenges the international moving industry throws at the FIDI Affiliates based in Vienna, they continue to be resourceful and resilient. Much like one of the city's most famous sons, three -imes Formula One champion and airline entrepreneur Niki Lauda, whose death in May this year was mourned in both Austria and the wider world.
There is a pride that comes from living and working in this striking European jewel, too. H.Fuchs' Prohaska says: 'Vienna is a cultural city with good food, good places to stay and sights everywhere…that is why Vienna has become the most beautiful city in the world.'
Sobolak's Karpisek is also a fan. 'It's a metropolis that feels like a town, it's super-safe and affordable – I would never want to swap.'
The 'sparkling cultural life' is highlighted by Anthony Heszberger at Santa Fe Relocation Vienna. He recommends city museums with 'rich collections, concert halls and architectural heritage from the Austro-Hungarian monarchy'.
'For both classical and contemporary artists, it is a privilege to perform in Vienna,' he added.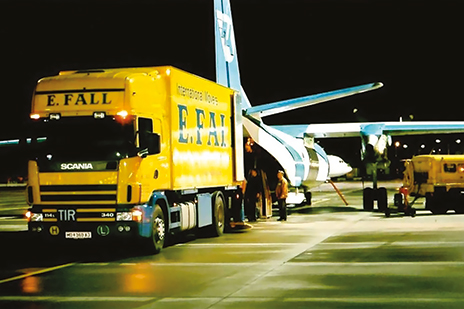 Culture, seeing the sights; wining and dining – Vienna style
What to see, do, and eat, when visiting Vienna. By FIDI Affiliates
Christoph Hermann of E. Fall: 'Visit Schloss Schönbrunn, which was the royal castle of Sissi and Emperor Franz Joseph I. Pass by the Vienna Prater, which is well-known for its attraction park with its giant wheel. The huge park behind this is popular with all Viennese people.'
Alexander Prohaska of H. Fuchs: 'Visit St Stephen's Cathedral and all the other sights at the Ringstraße: the Hofburg, opera house and Burgtheater are a must see. The Museums of Fine Arts and Natural History, too.
'We have the oldest zoo in Europe; Schönbrunn – and you must visit the summer residence of the Habsburger. There is also the Kahlenberg, with a beautiful view across Vienna.
'In terms of food, eat wiener schnitzel and Sachertorte, the famous Viennese chocolate cake (this originated at Hotel Sacher behind the opera house). Viennese wines are exquisite and memorable.'
Hanspeter Rabel of Zwendo Dworak: 'See the Vienna State Opera and visit Kohlmarkt and Graben for shopping.'
Michael Staindl of Lang Worldwide: 'Take a ride on an old 'bim' (tram) on Line 1 around the tram ring. Enjoy the wonderful architecture. Get out at Burggarten, sit down in the park to enjoy the beauty. Eat a good schnitzel and drink some Viennese wine: try Gemischter Satz – a unique white wine. Visit one of our famous Heurigen, rustic wine taverns selling young Austrian wine, located mainly in the suburbs.'
Reinhold Karpisek of Sobolak International recommends visitors to eat a käsekrainer, a sausage filled with cheese. 'You need to go to the Naschmarkt – which has great food, great drinks and an interesting flea market on Saturdays. 'Visit a Heurigen – but do not go to the touristy places, go to those in Floridsdorf (the 21st district in Vienna) instead.'
Anthony Heszberger of Santa Fe Relocation – Vienna: 'Tafelspitz, wiener schnitzel, Sacher cake and strudels must all be tasted! 'The 'Prater' is a must visit. Go to a concert at the Schönbrunn palace or in the State Opera House. 'Try an exciting exhibition at the Albertina museum.'
FIDI Affiliates in Vienna
| | |
| --- | --- |
| E.Fall Internationale Speditionsges M.B.H | Affiliate |
| H. Fuchs Gesmbh | Affiliate |
| Herber Hausner SUED-OST | Affiliate |
| Kuehner A. & Sohn Relocations | Affiliate |
| Lang Worldwide Moving | Affiliate |
| Santa Fe Relocation-Vienna | Affiliate |
| Sobolak International | Affiliate |
| Starelocation | Affiliate |
| Zdenko Dworak International Removals | Affiliate |