Following our feature on the fortunes of FIDI Affiliates in the western part of South America during the pandemic, we now shine the spotlight on companies operating out of Argentina, Brazil and Venezuela. Andrew Mourant finds out that, despite continued market uncertainty overall and the local challenges in each of these countries, pockets of optimism remain in the region
Latin America, already riven by political turmoil, has been thrust into an economic tailspin by the COVID-19 pandemic. Yet FIDI Affiliates in Argentina, Brazil and Venezuela battle on, adjusting as best they can and fuelled by optimism that better times lie ahead.
Perhaps they do. But this is hard to envisage in Venezuela, once South America's most prosperous country thanks to its vast oil reserves, but now a byword for poverty, unemployment (around 44 per cent) and crazy hyperinflation.
Juerg Degenmann, general manager MI Global Venezuela, has witnessed the boom years unravel into chaos. Swiss-born, he came to Venezuela in 1980 after studying in the US and joined the moving industry in 1998. 'There's almost no business,' he says. 'Moves are very small. The embassy of Brazil has closed down – we moved it out. Ten very big moves, and local moves: business we didn't expect.
'The US embassy went too – that involved big moves. We were lucky to get part of that job; and that we have a good name in Venezuela.' Where other diplomatic missions remain, they have only a skeleton staff. 'Now, 90 per cent of our moves are exports; just 10 per cent imports whereas it used to be 50-50 or 60-40.'
The oil industry all but collapsed after being nationalised by former president Hugo Chávez, but early this year his controversial successor, Nicolás Maduro, allowed private companies to get involved. So, for MI Global, there is business to be picked up.
Even though Venezuela is on its knees, MI Global is actually moving people back there. Among them are those who sought a better life in Miami but couldn't make a living. Others seeking their fortune in Mediterranean Europe – Spain, Italy and Portugal – 'came back broke', he says.
What next for Venezuela? 'You don't know which way it will go… whether it will turn left or right,' says Degenmann. 'It's like a bullfight. We're losing money month by month, but my heart is here. I do what I have to do to survive.
'If the government changes, business will boom. The US embassy will come back, and oil companies like Exxon will come back big. There will be lots of moves. This is why I don't want to close. I believe that when change comes, we'll be ready.'
Holly Rincon, vice-president of Clover Group, has seen an exodus of most transnational corporations from Venezuela. 'The effect of COVID-19 in the local moving market has been severe, but the political situation had already reduced the moving market potential by about 90 per cent,' she told FIDI Focus.
Problems have been compounded by the lack of fuel for trucks. Rincon says that makes long hauls impossible; that outside Caracas, it is virtually impossible to deliver goods to and from the home given a prohibition on moving interstate cargo, except for essentials such as food and medicines.
A government office shutdown prevents companies sorting out the red tape involved in export and import of household goods. 'All processes take additional days or weeks. Most customers aren't allowed to travel – they're waiting until the quarantine is over.' Some movers, Rincon says, have been reduced to bankruptcy.
Clover's office staff have been working from home. The firm has introduced 'extreme sanitary protocols' for packing crews and drivers, and demands the same from its contractors.
There are a few bright spots. The collapse in demand for expat relocations has created a small market for cheap private moves, and a trend for consolidating several at a time in ocean containers. 'There's also a growing demand for DIY moves with a potential to sell packing materials and assist customers in self-moves,' says Rincon.
Clover has picked up business distributing goods for aid charities such as Red Cross, UNICEF and the World Health Organization (WHO). It has also provided third-party logistics services for petroleum and metallurgy companies that rely on exports and that are unaffected by the local markets. Other openings have arisen in file storage, ocean charters, commodity trading, and digital areas such as workflow services.
Rincon glimpses some light on the horizon. 'The government has eliminated price and foreign exchange controls and informally allowed transactions in dollars,' she says. 'This has resulted in the stabilisation of the economy. But trade sanctions imposed by the US have crippled the chance of recuperation anytime soon and COVID has caused the outlook to deteriorate further.'
Neighbouring Brazil continues to grapple with the moves of its president Jair Bolsonaro, who, says Jason Lacayo, account manager Transworld Brazil, 'creates chaos' yet, in terms of the economy 'is taking the right steps'. He wants to privatise sectors of the industry such as oil and gas. 'For the moving industry, this is big business.' And not only oil and gas: Bolsonaro also talks of allowing private investment in infrastructure such as airports and water treatment plants.
Thanks to COVID-19, life in Brazil changes month to month. 'March and April were horrible, but we didn't have an internal shutdown,' says Lacayo. 'Every state tried to deal with COVID in its own way…the economy didn't really stop.' But overcrowded housing and public transport encouraged COVID to spread. 'People have to work. Quarantine was only followed by those who could afford it – that's the reality for 95 per cent of Brazilians.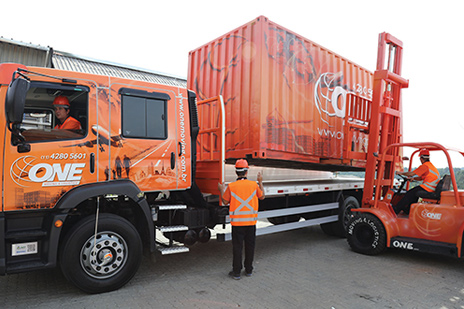 'Travel restrictions meant people from Europe and US couldn't come to Brazil. Consulates were closed – people couldn't get visas or paperwork done, so we had to postpone shipments. But in the past few months, things have been much better.'
FIDI Focus spoke to Lacayo the day President Trump announced Brazilians could once more apply for work visas to the US. 'That's very good news, even though Trump has restricted the numbers. We're very much affected by whatever happens in the US, because that's our biggest market.'
Despite the pandemic, Lacayo says the domestic moving market remained unaffected. 'Although we're 80 per cent international and 20 per cent domestic, domestic kept us going. Without lockdowns in Rio de Janeiro and São Paulo, we could still run trucks.
'We've been diversifying for a long time, especially storage, so didn't try anything specifically new because of COVID.' Government subsidies to help companies retain staff have, so far, kept the workforce on the payroll – 80 per cent of Transworld's people in Brazil work from home.
COVID-19 has brought about a change of mindset. 'Customers have become more open to the idea of virtual surveys – something we've been pushing, and most are now done that way.'
Lacayo believes that once a vaccine arrives, Brazil's economy 'will explode.' He also thinks the free trade agreement signed last year between Mercosur, a trade bloc comprising Argentina, Brazil, Paraguay and Uruguay, and the EU 'will be huge for us'.
For Gerson and Grey, whose HQ is in São Paulo, lockdowns across the world severely impacted international moving, the firm's core business. 'Moves were postponed or even cancelled,' says regional director Richard Gerson. 'So we focused on other divisions, such as local and interstate moves and storage. Because of quarantine, many families decided to leave big cities and go to the country where cities are smaller, safer and with more green areas.'
A 'new normal' COVID regime swung into action – packers using gloves; shoe protection; hand sanitising; workers' temperatures taken daily; and packer numbers reduced to avoid crowding homes.
At least customs clearance has become easier and faster; forms can now be filled in digitally. But, for the short term, Gerson is downbeat. 'We don't
foresee signs of recovery unless there's an end to COVID-19. I believe once we have a cure, Brazil has great potential to return where we were before the pandemic.'
Despite a widespread perception that political life in Brazil is chaotic, Wesley Thomé, executive director at One Moving and Logistics, praises the federal government for quickly extending credit to companies and helping 'the most needy' with financial aid for six months.
One Moving's main business areas are international, domestic and logistics. 'Initially, we had to stop all our activities but from April were able to resume some services,' says Thomé.
'The main challenge was a drop in revenue because of the lockdown. But we cannot use the pandemic as an excuse – we have to see the opportunities to grow. In Brazil, things have started to recover and in the international market, I believe we will have a full recovery in January 2021. I see the future with great enthusiasm and confidence.'
Argentina is still feeling its way through draconian restrictions, as Jorge McCormack, director at Mercovan, explains. 'We had the longest quarantine in the world. April was very bad for international work – we weren't allowed to do any packing or unpacking. After April, we could do customs clearing for import and export – to clear the warehouse.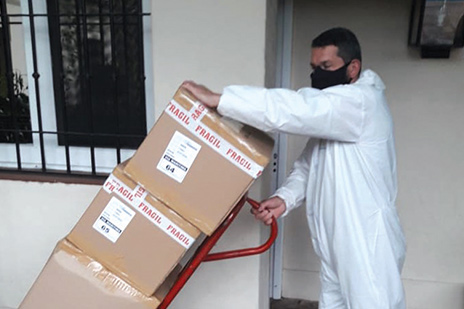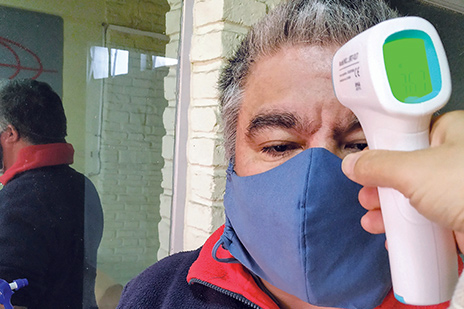 Government rules meant that in downtown Buenos Aires movers could only pack and unpack on Saturday and Sunday; some areas beyond this allowed Monday to Friday working.
Mercovan, whose trade is more than 90 per cent corporate, was in 'a very strong situation' in 2019. Much of its international trade entailed moving oil and gas industry executives, alongside those of American and European corporates with an Argentinian presence. Then COVID struck. 'Exports from January to August 2020 were down 15 per cent, and imports 25 per cent. We handle art transportation and that completely stopped,' says McCormack.
Even pre-COVID, Mercovan was steering towards admin staff working from home. There have, says McCormack, been no redundancies, though packers earn less when unable to work. It has helped that the government covered 50 per cent of salaries, though this was expected to finish at the end of October.
Quarantine rules in Argentina chop and change, which makes forward planning all the harder. 'People don't know whether they will be allowed to work or not. Flights remain very restricted; hotels are closed and tourism is at a standstill.'
McCormack remains optimistic. 'But I'm not stupid – I realise business won't be the same. Big companies will study what they are going to do. Will they continue to move high quantities? Will (moving) allowances
be reduced?'
Transpack Argentina experienced a similar drop in its business, according to company president Cliff Williamson. 'Argentina's tough position on quarantine was maintained for more than six months with only a slight relaxation. It worked well until only recently when COVID cases began a steep climb.'
Transpack's main business has always been international import and export, though, during COVID, areas such as storage increased in importance. The firm has sought to capture any new opportunity that arises. But customs regulation – 'always a challenge' – works slower than ever, says Williamson. Any glitch in the paperwork can exacerbate delay and add costs. 'Most clients understand the need for us to be extremely thorough. It pays off in the long run.'
His company takes 'all-known measures' to keep clients and workers safe, using gel and masks and encouraging social distancing and avoidance of
public transport. Office and warehouses are run by a skeleton crew. Most people work from home and video surveys are standard. 'People with willingness and commitment can master these adjustments in almost no time.'
Williamson has high praise for the way staff adapted to homeworking and the difficulties thrown up by COVID. 'They attend to clients and agents with the same level of attention and professionalism. In some cases, this means children at home being supervised and home-schooled.
'Sometimes, I've found the most difficult task during COVID is simply to focus. The world is in a very strange state. As for the future, much depends on the new US administration and how Brexit turns out in the UK, two of our largest markets. We will go ahead to a new normal and might as well prepare for it. I am the eternal optimist.'
FIDI AFFILIATES IN ARGENTINA, BRAZIL AND VENEZUELA
| | | | |
| --- | --- | --- | --- |
| ARGENVANS WORLD WIDE REMOVALS | AFFILIATE | BUENOS AIRES | ARGENTINA |
| LIFT-VAN INTERNATIONAL CO. S.A.C | AFFILIATE | BUENOS AIRES | ARGENTINA |
| MERCOVAN ARGENTINA | AFFILIATE | BUENOS AIRES | ARGENTINA |
| TRANSPACK ARGENTINA | AFFILIATE | BUENOS AIRES | ARGENTINA |
| UNIVERSAL CARGO S.R.L | AFFILIATE | BUENOS AIRES | ARGENTINA |
| FINK MOBILITY | AFFILIATED BRANCH | BRASILIA | BRAZIL |
| FINK MOBILITY | AFFILIATE | RIO DE JANEIRO | BRAZIL |
| FINK MOBILITY | AFFILIATED BRANCH | SAO PAULO | BRAZIL |
| G-INTER (GRANERO INTERNATIONAL) | AFFILIATED BRANCH | RIO DE JANEIRO | BRAZIL |
| G-INTER (GRANERO INTERNATIONAL) | AFFILIATE | SAO PAULO | BRAZIL |
| GERSON AND GREY | AFFILIATE | SAO PAULO | BRAZIL |
| NETMOVE | AFFILIATE | SAO PAULO | BRAZIL |
| ONE MOVING & LOGISTICS | AFFILIATE | SAO PAULO | BRAZIL |
| PREMIER RELOCATIONS | AFFILIATE | RIO DE JANEIRO | BRAZIL |
| SIRVA RELOCATION | AFFILIATE | SAO PAULO | BRAZIL |
| TEAMWORK MUDANCAS INTERNACIONAIS LTDA | AFFILIATE | SAO PAULO | BRAZIL |
| TRANSWORLD MOVING LTD. | AFFILIATE | SAO PAULO | BRAZIL |
| CLOVER INTERNACIONAL, C.A | AFFILIATE | VALENCIA | VENEZUELA |
| CLOVER INTERNATIONAL | AFFILIATED BRANCH | CARACAS | VENEZUELA |
| CLOVER INTERNATIONAL | AFFILIATED BRANCH | MARACAIBO | VENEZUELA |
| LINK INTERNATIONAL | AFFILIATE | MARACAIBO | VENEZUELA |
| MUDANZAS INTERNACIONALES GLOBAL C.A. | AFFILIATE | CARACAS | VENEZUELA |