"The three clubs represent the younger generation in our associations – the future of our industry – and we want to have an impact on it, shape it"
A new environmental collaboration of young professionals in our industry, The Global Green Initiative (GGI), began recently and involves members of FIDI 39 Club, IAM YP and LACMA Next. Here, Morgana Somers, FIDI 39 Club President, and Jessica Deutschmann, Vice-President, talk about the project
FF: Can you tell us how the idea of a collaboration came about?
Morgana Somers (MS): The idea started a few years ago when we met IAM YP and LACMA Next to brainstorm collaborative projects. At the time, both the FIDI and LACMA conferences were scheduled to take place in Brazil, right after one another. We were all very keen on taking part in a Brazilian tech project with LACMA. However, when the conferences ended up changing locations, the joint tech project never happened.
LACMA Next approached us at the recent FIDI Conference in Amsterdam to reignite our collaboration. Jessica and Isabelle Harsch (FIDI 39 Club Board Member) conducted a sustainability workshop at the FIDI 39 Conference and shared their experience and passion with LACMA and IAM. Everyone agreed quickly that focusing our collaboration on the issue of sustainability is the perfect fit.
We are in the infancy of the Global Green Initiative and, for now, our goal is to raise awareness. We want this project to grow organically and, above all, our mission is to drive our industry towards a more sustainable future.
FF: Why the Global Green Initiative?
Jessica Deutschmann (JD): We were able to agree right away on one topic we all care about, which connects us, and which is worth fighting for. The three clubs represent the younger generation in our associations – the future of our industry – and we want to have an impact on it, shape it.
So how do we make this impact? Raise awareness of something that should be close to all our hearts: the environment, and the future of our planet. We wanted to look at how we, as an industry, can improve our impact on the environment and take measures to ensure a sustainable future.
We have founded the Green Committee, consisting of members from the boards of all three clubs. During the FIDI 39 Club Conference in Amsterdam in April 2019, we held a workshop on sustainability, focused our sporting activity on this topic – and went plastic fishing on the Amsterdam canals. It is important to make efforts – however small – to inspire our peers to go home
after a conference with the ambition to change something in their daily routine, in their company, in our industry, for our future.
We came up with the idea of the Global Green Initiative, which will now be part of each of the IAM, LACMA and FIDI conferences every year. The boards will work together to gather the ideas you have come up with, find conclusions, which will then be brought to the presidents and members of our associations. We are introducing the 'Green Moment' to a bigger crowd during this year's IAM-YP Members' Meeting in Chicago.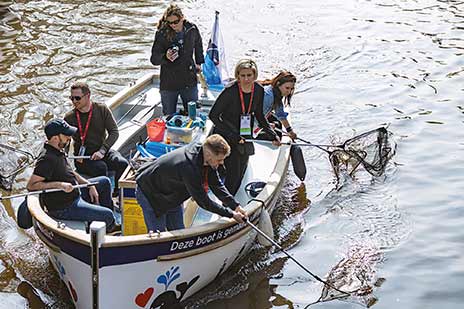 Members of FIDI's 39 Club go fishing for plastic and other rubbish in the canals
of Amsterdam
If a 16-year-old girl from Sweden is able to make an impact, raise awareness, and speak at the Strasbourg EU Parliament about what we would do 'if our house was on fire', we can also make a difference in the future of our industry. We really hope to see all of the YPs in Chicago during the Members' Meeting to learn more about the Green Committee and the 'Green Moment'. Please feel free to share how you are already trying to make a difference or what we could be doing. We want to start a conversation and get as many people involved as possible.
FF: What concrete plans can you share with us at this early stage?
MS: Ideas that have already been discussed include:
1) Statement of Intent
We have all agreed on the following statement: The Global Green Initiative is a collaboration of the FIDI 39 Club, IAM YP and LACMA Next to raise environmental awareness in our industry. We aim to educate the future moving generation on the importance of improving sustainability industry wide.
2) Logo Challenge
We wanted to develop a brand for our project that all our members can identify. We are challenging members of the FIDI 39 Club, IAM-YP, and LACMA Next to create a GGI logo. We believe that there is someone (or hopefully more than one) out there who has an artistic talent and is able to come up with a cool logo for the initiative. We will select the winner either by polling the submitted logos on social media – or with a simple decision by our board.
3) Incorporating environmental issues and sustainability into each conference
We are focusing on raising awareness of these topics within each of our three groups. The aim is that each club will always incorporate a 'green session' into their conferences. Every member can then take inspiration home and start working on improving their company's environment-focused activities. The goal is to focus on a project that will be continued through each of the three conferences. After a year, we can look at the results. The GGI is already having an impact with small, but significant changes, including the banning of plastic straws at YP Social Mixer at the IAM conference in Chicago. Paper or metal straws will be used at the event as more environmentally sustainable alternatives.
Would you like to join us in this project? Share your comments, ideas and questions with us at
39club@fidi.org and visit our webpage https://www.fidi39club.org/global_green_initiative