Russell Start has spent every one of his 38 working years in moving positions, including leading roles at Pickfords and, most recently, AGM Group, where he is now Group Managing Director. FIDI Focus speaks to him about his career and finds out why he's looking forward to the next 10 years
Russell Start, Group Managing Director of AGM Group, says that since he left college at the age of 17, moving is all he's done – but that's not to say his 38-year career hasn't been diverse.
His first industry role arose from Davies Turner & Co's well-respected and structured trainee development programme, which aimed to provide new starters for the company's sizeable forwarding business.
'All new starters spent the first two weeks in the post room, to get a feel for the place,' says Start, 'and, on my third day, the General Manager of the removal division needed some filing doing; he
called the post room and I was dispatched. I sometimes wonder where I'd have ended up if
the GM of a different division needed their filing sorting that week.'
Joining Pickfords
Start stayed with the company for five years – 'and not just in filing', he adds – before joining Pickfords in 1987. 'I was ambitious and wanted to stay in the removal industry,' he says, 'and Pickfords had started a management development programme, which I thought would help me grow.
'I stayed at Pickfords for 16 years doing various roles in and around the international moving department. It was here that I started attending international industry conferences, which I really enjoyed, eventually becoming General Manager – International.'
Then, in 2003, Start was given the 'tremendous opportunity' to help shape the newly formed TEAM Relocations business in the UK, following the Trans Euro and Amertrans merger.
'I was at TEAM for seven very enjoyable years, experiencing a different angle and perspective to the international moving industry, which I loved,' he says, 'plus learning about DSP provision and relocation management.'
Start served as Managing Director of TEAM's UK moving business before being asked to leave the business and return to Pickfords, to become its Managing Director in January 2010. This was following the acquisition of the company from SIRVA and Kevin Pickford moving back to Australia.
AGM Group
'Having spent 16 (mostly) enjoyable years at Pickfords before, I felt like I was going home,' says Start. He remained at the company until the summer of 2017, when he received a call from Paul Evans asking him to join the development of AGM Group. 'It was an offer too good to miss,' he says, and in August 2018, after a year's 'well-publicised garden leave', he joined AGM Group as Group Managing Director.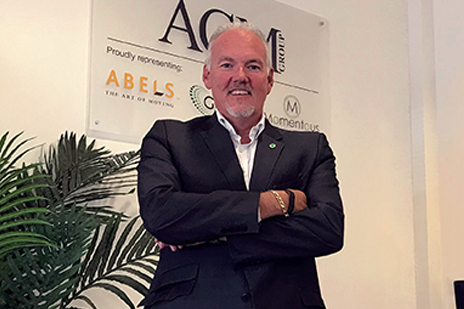 Start says it's difficult to compare his experience at Pickfords and AGM Group, as 'they are very different companies, with different drivers and target markets'.
'I love the international industry and AGM Group has a bigger portion of its focus on international, which hits that spot for me. But probably the biggest difference is that AGM Group covers most aspects of the relocation and moving markets through market-specific group brands, whereas the Pickfords brand covers those same markets under a single name, so brand management is very different,' he says. 'AGM Group is also made up of four companies – Abels, Gerson Relocation, GMS and Momentous – that individually, of course, are smaller than Pickfords, so that makes them easier to influence, direct and grow.'
Working with Evans, one of the moving industry's best-known characters, has already proved exciting and enjoyable, says Start, and it has broadened his horizons further still.
'I've thoroughly enjoyed working with Paul and the rest of the team at AGM Group,' he says. 'His instincts are uncanny, his eye for a deal is well known to many. I thought I was well connected around the global moving industry, but acknowledge I'm a novice compared with Paul. I'm thoroughly looking forward to the next 10 years.'
The difficult times
Start singles out two periods of his career as the most challenging. He says: 'Personally, the most difficult step was adjusting to my first real promotion, when I got my first management position at Pickfords in 1987. At the age of 22 , I became responsible for the management of others for the first time; all were older than me and most were more experienced. That was a challenge, suddenly being responsible for more than just my own little world! Thankfully, I learn quickly.'
Then, from a professional point of view, he says his biggest challenge was being in the driver's seat at Pickfords during a period of necessary financial restructuring. 'It naturally caused a lot of concern, internally and externally, and was not an easy time to navigate,' he adds.
Beyond coronavirus
Speaking of difficult times, the current pandemic will present more than its fair share of challenges to movers of every kind, says Start. He believes that the biggest long-term challenge caused by COVID-19 may come from employees being reluctant to take on overseas assignments for health and safety reasons. 'This would lead to a lack of global talent, and employers finding new ways of meeting their business needs,' he says.
'We've already seen a trend towards virtual assignments, and as we all become more used to this new normal, it could have an impact on assignment numbers. We haven't felt this in recent weeks, as we continue to conduct virtual surveys and see no major reluctance to travel – but time will tell.'
Mostly though, Start is optimistic there will be upsides that arise from the challenges – not least the opportunity, while the business has stopped, to reset working patterns and, he says, perhaps ambition.
Start adds that the crisis has given it a one-off chance to consider its response to the shifting patterns of business in the moving market better. 'Pre COVID-19, we were seeing changes in how people move and relocate,' he says.
'More people are moving overseas, and some for shorter periods of time, but shipping less, so move sizes are smaller.
'Our customers are also changing to live in a digital world – so how they find schools and housing is changing. This provides a unique opportunity to look at our traditional delivery methods, and adjust how we improve the service we deliver and create greater value for our customers.'
For all the current upheaval and transformations of the past few years, Start says the core of removals remains unchanged. 'It's still a people business; we still pack in paper and cardboard, put stuff on ships and communicate with customers to keep them happy while solving their problems,' he says.
However, he adds that technology has made arranging a move a very different experience.
'I remember uttering the words "this email thing won't catch on",' he says.
The development of the relocation management industry 'has had an impact that we've learned to embrace and adapt to, as we continue to focus on how we deliver services to our customer in their, or at, home'.
Advice for a young mover
If Start has one piece of advice for his younger self, what would that be? He says: 'One thing I tell anyone who cares to listen is that people treat you how you let them. It has been a mantra of mine for a few years now, and I wish I had been told it back in the 1980s.'
Another lesson he has learned during four decades of moving is figuring out when to wait and when to push for what he wants.
'I've learned to be patient when I need to be and impatient when I have to be,' he says. 'Sometimes, you've just got to get stuff done. Unfortunately, as I get older the less patience I seem to have!'
Learning the value of building relationships is also important, he says. 'Be that with your customers, your global partners, your staff, your bosses and the bank manager; it's important to try to build relationships. I've been extremely fortunate with the amount of travel I've done in the past 30 years, and the number of relationships and friendships I've developed is a joy.'
Finally, says Start: 'You've got to be flexible. Things will change, things will get in the way, you'll succeed and you'll fail, but you have to embrace change and accept that what you did yesterday won't be good enough tomorrow – so be prepared to change it.'