Driver shortages; an unpredictable president; coping with the needs of a pet tarantula– it's all in a day's work for FIDI Affiliates in Chicago, Cincinnati and Boston, who remain upbeat whatever challenges come their way. By Andrew Mourant
If America were fuelled by Donald Trump's optimism alone, there would be no limit to its economic achievements. Indeed, his tax cuts for business have given many sectors reasons to be cheerful. Movers in Chicago and Cincinnati are among them, even if some are wary about Trump's approach to international trade.
Beyond wondering what Trump might do next, the removals industry has other preoccupations: the global ones of smaller volumes and cost cutting; a national one of too few drivers. That shortage had a severe impact around the Windy City last year, with lead times for pickups at terminals reaching seven days during peak season.
David Hollander, partner at Hollander Storage & Moving, says there's been an industry-wide driver shortage 'for years'. 'The situation doesn't appear to be getting any better,' he adds. The good news is that Hollander succeeds in keeping good staff, with employee turnover 'exceptionally low'.
Edwin Ooms, Managing Director at New World International, reports that his firm is 'quite successful at recruiting and retaining the right guys'. 'A lot of folks become (drivers) through our own programme, perhaps starting as packers. It's a responsible job – drivers usually lead the team. But it's a challenge finding them, and a lot don't pass our test.'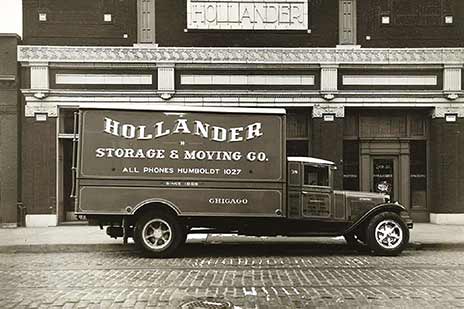 For this reason, prudent companies strive to keep hold of good staff. 'We regularly survey employees to understand how we're doing, where we can improve… we want to know they understand their role in achieving our goals,' says Natalie Nisivaco, President of Westerberg Global Mobility. Profit-sharing, which Westerberg has done for 21 years, is a key element of feeling valued.
Aside from the battle to find the right talent, a cost-cutting race to the bottom has created problems for van lines, according to Alex Talbot, Executive Vice-President of Interconex Chicago. 'In the 1980s and 90s, discounts were being offered of 30-50 per cent. Now they're in the high 60s to lower 70s,' he says. 'A couple of years ago, big van companies said they'd up their tariffs. But, in doing that, you need to offer some type of improvement.'
He feels it makes little sense for firms to deal with a 3-4,000lb shipment that can take three to five weeks to get from coast to coast. There's no comparison with the seven to eight days that same trip would take using rail freight and a container – a far narrower timeframe that allows the client to plan and schedule.
The world travels lighter these days, as corporate clients move towards short-term assignments,
single person moves rather than family ones, and
renting furnished accommodation abroad. Talbot
believes the small-load trade needs to be better understood and exploited.
'Growth in that business has been triple digit in the past five years,' he says. 'It's difficult to make margins – we're still evolving a way of doing it.' One difficulty, he adds, is a dependency on the US storage business – 'very slow to change' and still geared up for 'two men and a truck rather than one person and a van'.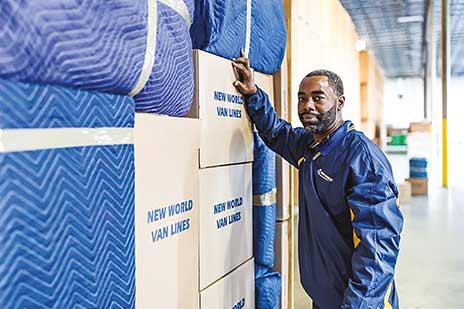 Like everywhere, the US industry is grappling with the move towards lump-sum programmes, where staff receive a fixed sum from their employer to sort out their own move. 'We need to capture that market – it's up to us to jump on every opportunity that comes our way,' says Ooms. For movers, he says, the key will be sifting serious inquiries from browsers simply seeking the cheapest option.
New World, with its three business strands – Van Lines, Domestic and International – is a Marx company, and this year celebrates its centenary. It remains a family operation – David Marx is President of New World International and New World Van Lines. Beyond Chicago, it has offices from coast to coast.
Domestic business is core, with international representing about 20 per cent. 'We've seen steady growth, but it isn't booming the way it was years ago,' says Ooms. 'Volumes are smaller – we won't take shipments less than around 3,500 lbs.'
For Hollander, established in 1888, the main spheres of trade are local, interstate and international moving, and it has household and non-household divisions. Business has seen 'moderate but consistent growth' over several decades.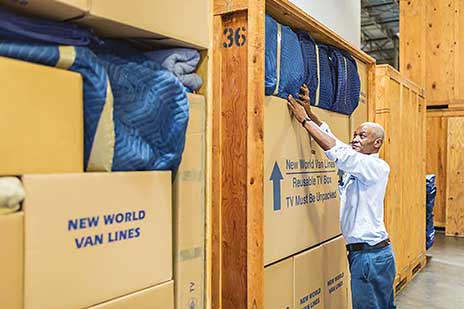 David Hollander says Trump's economic policies have resulted in 'all boats being lifted'. 'Renters are moving to more desirable buildings or purchasing a condo or house; and people in houses are moving to more desirable addresses. Non-household, office moving and distribution areas of our business have all seen increases.'
Westerberg Companies have a broad span. They include Westerberg GMS (International corporate), Nelson Westerberg (domestic corporate and private), Charter Transportation (USDOD), AmerTrans Logistics and Commercial Records Center. Domestic corporate moving and military businesses are the biggest ones, followed by corporate international forwarding.
'Logistics, our newest venture is growing rapidly,' says Nisivaco. 'We've invested heavily in sales over the past three years and are seeing real results.' Corporate business has seen double-digit growth. Yet, she adds, Westerberg's core strength is a loyal customer base. 'Many have remained with us for more than 20 years and two of our largest have reached 40 and 50 years. So, all new business contributes directly to growth.'
Where might that come from in future? Nisivaco isn't sure. 'Given US trade disputes – which change weekly in some cases – it's hard to determine how multinational companies will choose to invest or continue supporting their operations.' she says. 'Given nearly 100 per cent of our clients are corporate transferees, we need to remain agile and prepared.'
Hollander's growth areas include military business coming through the state department, warehousing and 'final mile' delivery of containerised fine furniture from Western European manufacturers. 'But no one sector has increased or changed significantly,' says David Hollander.
For Interconex Chicago, almost all – 98 per cent – trade is corporate. 'International is always in a state of flux,' says Talbot. 'We have a good portion in the energy sector, but the price of oil has an impact.' Other chunks of business come from tech, manufacturing and healthcare.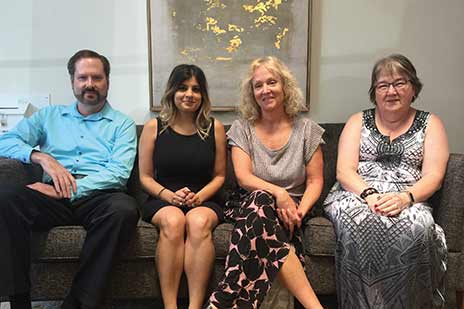 Some of the Westerberg operations team
Cincinnati, half a day's drive from Chicago, is home to another new FIDI company, Planes Moving & Global. Most of its services – ranging from domestic and international household goods to global logistics –
is corporate. But factors such as lump-sum policies and a growing trend for people to live overseas now drive its private market share.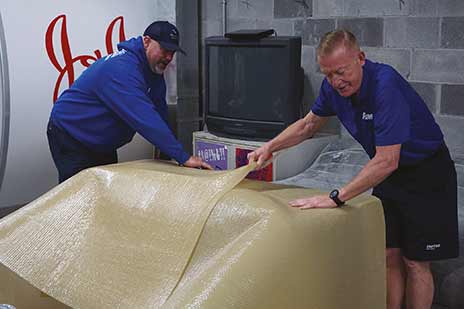 That diverse mix is, says Planes' Brian Loud, Senior Vice-President of global services, 'the result of a systematic and strategic approach to business development and margin management'. 'Emerging markets are everywhere – we've seen recent increases in EMEA (Europe, Middle East and Africa) and Central America.' But this, he stresses, is industry rather than location-specific.
Loud, like his FIDI counterparts in Chicago, believes the best way to remain competitive is to hire, train and keep hold of the best people. Moreover, he says, everyone should be geared up to deal with change.
'Online shopping is on the rise and consumers are turning to the internet for international moving services as well. People don't want to wait four days for a survey. They demand instant, accurate, value-based pricing and detailed information on the process.'
These days, Planes sees clients trying to trim costs by packing their own items – a bad idea in Loud's view, as it heightens the chance of a customs inspection 'and the resulting costly expense'. Professionally packed goods are less at risk of damage in transit. 'Let's not forget the stress of packing a four-bedroom home – stress mitigation alone is often well worth paying for.'
Nisivaco says Westerberg's future lies in making best use of technology – 'harnessing knowledge and expertise in ways that simplify and modernise the relocation process'. Doing business has already been made easier through better communication methods and documentation – forwarding and customs processes have become more efficient.
Movers welcome the US's move to self-reliance in terms of oil, driving down the cost of fuel. Yet, alongside this, there's a growing environmental awareness in the trade. 'The new equipment we've purchased recently is particularly quiet and clean- burning,' says Hollander. He also feels moving has become better at recycling.
With an eye to one of their best overseas markets, FIDI members are keeping close watch on the UK's Brexit soap opera. Talbot, a seasoned operator, is unfazed by the shifting sands, though braced for slower progress through customs.
However, Nisivaco is more apprehensive, given uncertainty over the outcome and 'where our global
clients choose to do business'. 'It could also have an immediate impact on volume should companies be forced to relocate because of immigration status or changes in regulations,' she says.
Hollander is more upbeat. 'Provided Brexit is successful and President Trump remains in office for the 2020 term, I'd expect to see a free-trade agreement forged between our two countries that will most likely result in increased trade and moving,' he says.
Ooms has already noticed unwelcome changes, such as delays surrounding a transfer of residence (TOR), whereby people apply to enter the UK. 'It's now taking four to six weeks, where before it wasn't a problem,' he says. 'UK agents won't allow us to ship until we have the TOR paperwork.'
Many Planes' clients are waiting to see what happens before committing to a UK move. 'We expect a sharp increase in traffic once the decision is made,' says Loud. 'It's vital we have a plan for when they decide. From a pricing standpoint, there will undoubtedly be an impact.'
There's unanimity among this group of members about the value of belonging to FIDI. 'It helps Westerberg be the best we can be – to prove our quality, and adapt to changing markets, confident we can expect world-class service through partner alliances,' says Nisivaco. 'It's a huge differential between us and other companies.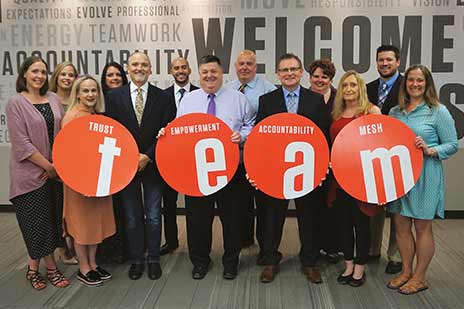 Ooms agrees. 'FIDI is super important for our clients and our own confidence,' he says.
Hollander Moving has been a member for more than 50 years. 'It's the standard and benchmark that distinguishes an international mover from a mover that will move a shipment overseas,' says David Hollander. 'The difference is success versus a roll of the dice.'
Loud views membership as 'extremely important… the industry organisation that carries most value and importance to fellow members and clients'. 'We also see it as necessary to drive process improvement and consistency for ourselves,' says Loud.
FIDI's US members are as resourceful as any in the world, yet even industry veterans can be taken by surprise by the odd turn of events in their working life. Recently, Talbot received a bizarre call from
one of his Interconex dispatchers. 'He told me the transferee was unhappy that one of the moving team was wearing sunglasses and had asked him to leave. Then he complained that the crew leader was too small to be in charge.'
Not so long ago, New World International found itself dealing with a stowaway cat that had crawled into a box-spring bed base, been packed up, and then shipped to Hawaii. 'It emerged 37 days later, alive but not in great shape,' says Ooms. Nor, of course, had it passed through quarantine.
One Westerberg move came to focus extensively on the needs of a tarantula, following its owner to the UK. 'Tarantulas can be easily injured, so we worked carefully with our pet carrier to move him safely,' Nisivaco says. 'It took weeks to get all the documents, but he arrived safe and sound.'
Loud recalls Planes suddenly becoming very hands-on in support of a charitable mission. What had begun as a missionary's request for a bicycle to speed up his journey around the Kenyan countryside mushroomed into a donation of 20 used bikes, paper goods, hygiene products, tools and mosquito nets.
That burst of generosity left Planes with twice the amount of goods to ship than would fit in a 200ft3 van. 'We started disassembling the bikes and stacking them flat with cardboard in between,' says Loud. 'We also filled every space with small bundles – everything from toothpaste to toilet paper. Finally, we loaded in the tools to reassemble the bikes.'
Despite political turbulence and a spike in the US budget deficit, FIDI Affiliates are largely buoyant about what might lie around the corner. 'I'm very optimistic because that's my nature and I feel confident our President will remain in office until 2024,' says Hollander.
Ooms is also positive about the future – 'by nature I'm an optimistic guy'. 'But we have to keep our finger on the pulse of the industry and our eyes open.' That means forward planning – as FIDI Focus was going to press, New World's preview of 2020, involving employees from marketing, sales and IT, was well
under way.
Nisivaco believes the outlook remains good for Westerberg. 'We have enough mix of business and talent – we can share strategies and practices that work for one division across all lines of business. This gives us a competitive advantage.'
The moving industry, says Loud, 'is changing, compressing, and melding into something different'. But Planes' employees seem happy with life – they've voted their company as one of Cincinnati's top workplaces six years running.
Loud is 'enthusiastically optimistic… our ability to adapt over 100 years shows willingness to seize opportunities that result from change'.
On the eastern seaboard, Boston-based Isaac's Moving and Storage is celebrating 30 years in business. It's seen enormous changes in the industry and has transformed. Once just a regional company, Isaac's has expanded to become an international mover, with six locations across the US.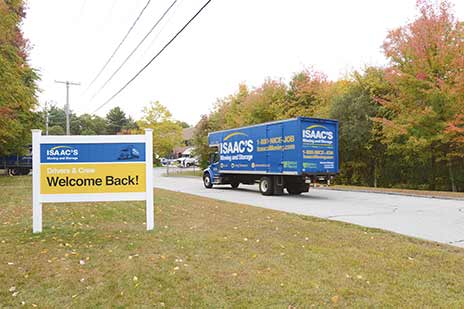 During its 30-year history, Boston-based Issac's Moving and Storage has adapted its business to significant changes in the business
The firm has grown steadily since the recession of 2008. Having built a reputation over 25 years in Greater Boston and Philadelphia, Isaac's has taken root as far afield as San Diego. 'Smaller companies have dissolved, leaving most international business to be handled by larger and diverse ones,' says company President Isaac Edry.
'We've consistently looked for new avenues of marketing while expanding in international moving, domestic residential and commercial. Today's consumers are educated – they have the wherewithal to seek and find their mover of choice. Working with them is a challenge but, nevertheless, a joy.'
Technological innovations have worked to the industry's benefit, Edry believes. He's a big fan of the digital electronic log book, which, he claims, has changed the way American companies carry out long- distance moving.
Among other things, it's helped shield drivers from spending too many hours at the wheel, thereby avoiding fatigue. 'That's levelled the playing field and allowed us to instil the message that good working conditions and road safety is a primary goal.'
Isaac's sets great store by keeping hold of its best staff. FIDI membership has been an all-round boost. 'It's made us a better company in many ways and created a culture we're proud to be a part of,' says Edry. Moreover, it's opened doors to 'wonderful relationships' with partners around the world. Isaac's puts strong emphasis on its green credentials, recycling materials wherever possible and seeking business partners globally with the same values.
Like most FIDI Affiliates, Isaac's has its share of unusual moves. Earlier this year, it dispatched 76 pieces of artwork to a customer's family far and wide, some shipped internationally and others sent to 11 destinations around the US. Each had arrived safely when the customer had a sudden change of heart and decided he wanted them all back. 'His family wasn't very happy… but Isaac's enjoyed the extended relationship,' said Edry.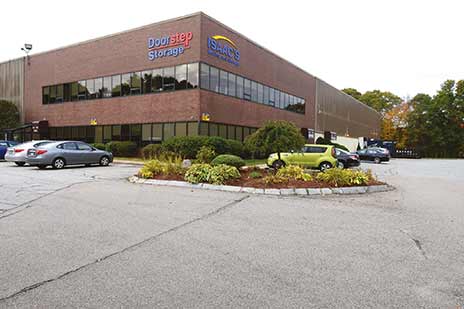 How does he see the business landscape? 'We're extremely optimistic about the future. The industry is evolving and professionalism and standards are constantly on the rise. Today's economic environment is a challenge, but with the right staff, background knowledge, training and information gathering, it can be met.'
FIDI AFFILIATES IN BOSTON CINCINNATI AND CHICAGO
ISAAC'S MOVING AND STORAGE
Affiliate
Boston
HOLLANDER INTERNATIONAL
STORAGE AND MOVING COMPANY
Affiliate
Chicago
INTERCONEX, INC. CHICAGO
Affiliate
Chicago
NEW WORLD INTERNATIONAL
Affiliate
Chicago
WESTERBERG GLOBAL
MOBILITY SERVICES
Affiliate
Chicago
PLANES MOVING & STORAGE
Affiliate
Cincinnati