Germany's forward-thinking approach to business has created an environment where opportunities for employees are strong regardless of gender, and the next generation of young movers are increasingly able to thrive. This, in turn, is helping agile and innovative companies serving a wide range of market needs to develop – and is fostering a tangible atmosphere of optimism for relocation in the country. Andrew Mourant reports
When it comes to looking after its workforce, Germany leads the world in many ways. Enlightened laws make it easier for people to retain careers while taking time out to raise a family. For women, especially, that provides certainty and, for companies, long-term continuity. People who know their job can slot back into a familiar workplace.
The removals industry appears to lend itself to women, with its emphasis on personal skills and customer service. Many thrive, although Sabine Hartmann, CEO of Hartmann International, believes too few hold senior posts. 'Over the years, there are more women at conventions than before,' she says. 'But, in top positions, it's still rare – I have sat on boards as the only female member.'
This should change over time. Hartmann sees 'more and more women' among the industry's younger entrants. It helps that they are able to stay at home for three years after giving birth, secure in the knowledge their job will be kept open for their return.
Stefanie Huter, service delivery manager for Sterling Lexicon, has been in removals for 19 years with firms employing women chiefly in customer service. In her experience, women haven't been held back. 'Chances to grow and be offered senior roles were always equal to that of male colleagues,' she told FIDI Focus. 'Companies focused on personalities rather than you being female or male.'
Hartmann's niece, Carolin Frey, has been with the family firm for three years and is thriving. 'She has seen a lot of departments within the company group,' Hartmann says. 'No client is alike – Carolin loves the challenge. She's a member of the international team and has experienced colleagues alongside her – Kristina Ibers, with us since 2002, and Anna Lena Dentzer, for more than 10 years. They're well known in the industry. 'Carolin has attended industry conventions such as Young Movers, IAM and FIDI – what's better than meeting face to face with our partners around the world? Even with Skype and new media, a personal meeting makes a difference.'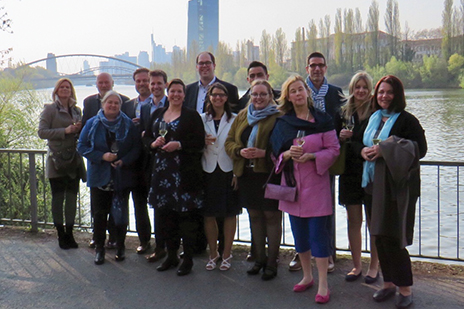 For Hartmann, investing in good personnel is crucial. 'As in all industries, it doesn't get easier. You need to be interested in people, a problem solver for customers and extremely flexible. We do a lot to retain existing staff and keep fluctuation as low as possible.'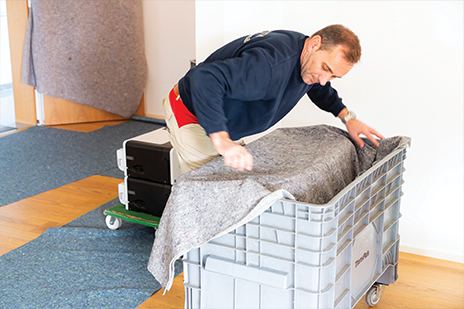 That offer includes a trainee programme; allowing working from home; a summer party for employees and family; massages in working hours; and even help with 'private problems'. A collaborative approach to tackling business challenges entails running 'disruptive' workshops with employees, or with a mix of staff and customers. 'Some great ideas come along and the young people love to show how they can be implemented in practice,' says Hartmann.
Appealing to young movers
Yet, attracting youth into the moving industry can be difficult, as Sebastian Sommer, managing director of Arpin International, explains. 'The expectations of Generation X and Z will be the highest ever,' he says. 'If we look at our crews and drivers, we have challenges finding suitable younger employees. This will become more critical in future years. It's not easy to find educated and experienced staff because of the concentration of moving and logistics companies in our region.
'We always try to recruit interns (between 16 and 18 years of age, directly from school) who'll combine working in the office and being at school for three years before gaining a diploma in logistics. Most of the best employees and leaders started their career with an internship at a well-run company. These days, young people expect everything they do to have a direct impact on a company's success. The goal is to make sure all employees understand their impact and how important everyone is. That's of huge value to the company.'
Manuela Henk, managing director of Henk International, is based in Dusseldorf, where unemployment is low and service industries vie for a limited pool of labour. 'To be attractive, we decided to be unconventional,' she says. 'One way is to approach prospective employees as soon as possible, so we started going to schools and universities to show how interesting our business can be.
'Today, we cooperate with kindergartens, primary schools, colleges and universities. We offer trainee programmes for students, take part in projects such as 'girls day' and offer apprenticeships. Participants in girls day apply for a traineeship or recommend us to other students. We're also present on social media.'
Henk is aware how important work-life balance is to employees and the need to work around 'different family situations'. Over the years, her staff has diversified. 'Today, we employ people from 15 nations, and, since last year,have had two women in our operational team.'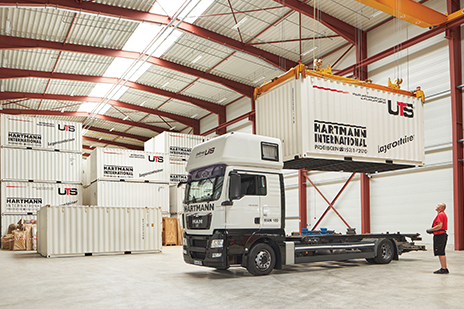 Keeping good people is no less important than finding them. 'Ours have been with us a long time and it's because we treat them fairly,' says Michael Donath CEO of Donath International. 'We give them the freedom to use their own judgement when managing the moves on a daily basis.' Donath, founded in 1904, is a buoyant family firm. Michael's son Chris has joined the company. 'He enjoys the variety,' says Michael. 'He manages our sales department, but is also responsible for our IT – bringing in technology to create a more efficient working environment. He travels to conferences and meets our partners from all over the world.'
A shifting business
Undoubtedly, spry young minds are an asset to FIDI's German Affiliates. 'How we go about doing business has changed,' says Donath. 'More and more, we're aligning the relocation and the moving services so that the gap is bridged as much as possible.'
While Henk International covers the gamut of international services – though intense competition has hit profits – and domestic, it sees branching out as the future. So it's entered newer spheres of logistics – last-mile and high-end; hotels and hospitality. 'We're constantly developing new services and market niches,' says Manuela Henk. 'Our strategy is to get into markets with little competition, where price isn't the prime reason for a decision and customers appreciate quality and individual service. That business is growing.
'I see major changes in the way of working – home offices rather than people coming to the office every day. So we offer home-office and mobile-office opportunities.' The moving industry, she adds, is also having to cope with supply-chain changes, such as fourth-party logistics firms entering the corporate market for commercial moves and international relocation.
Stefanie Huter has seen the business become increasingly multifaceted. 'The distribution of services has changed,' she says. 'A few years ago, household goods moves were the biggest part of a relocation. Nowadays, it's important for corporates to help assignees through the whole process, including immigration assistance, school/home search, intercultural training and so on.'
Technology, if not taking over, plays an ever-increasing role. 'Accounts require it for their reporting; the younger generation prefers to go online and have video surveys. People prefer to get quotes online and make decisions quicker, directly.' As Sommer points out, uncertainty because of trade wars and political instability – even within Europe and the US – 'has become a daily companion'. 'For the younger generation, it seems normal that the world is changing quickly, but it can be challenging for those who've been in the business longer.'
Hartmann International's span of business – international corporate, domestic, warehousing, office and project moves, and records storage – makes it less vulnerable to global economic turbulence. It, too, is developing niches – 'pick and pack' and two-man handling trade (carried out under a different brand, Gocelo) are expanding areas. 'In 2018, we had less international business than 2017, but more project moves. This year, international picked up and, overall, is better,' says Sabine Hartmann. 'A couple of big projects or office moves can make a huge difference.'
Sommer reports that Arpin International saw a solid increase in 2019 compared with 2018, though mainly connected to one corporate account. The significance of that growth meant the company could increase warehouse capacity at its premises between Frankfurt and Wiesbaden.
Beyond Brexit
For some companies, China and the Far East/Asia Pacific are their principal growing markets; for others, North America. Many have watched the protracted Brexit saga with disquiet. 'Uncertainty has decreased the business between Europe and the UK for now,' says Sommer. 'Having grown up with a stable, growing and successful Europe, I don't like to see this happening.'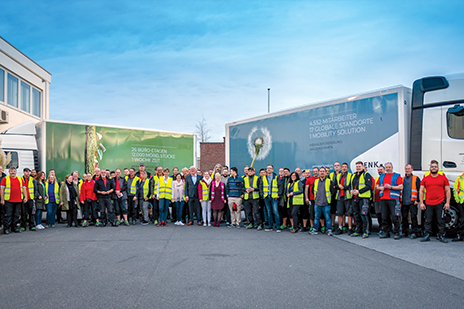 Huter says that as organisations held back on investment, Sterling Lexicon saw 'the downstream effects… firms less likely to approve strategic long-term assignments (LTAs)'. 'With these typically receiving larger shipping allowances, it's certainly had some impact on our business,' she says. 'We've been assisting organisations who've moved some jobs out of the UK as a result of Brexit. However, it seems that many, particularly in banking, have held back waiting to see what kind of deal the UK will leave the European Union with.
'We don't know what the future holds, with various countries attempting to woo businesses to relocate and the potential for a UK/US trade deal. A low exchange rate may make some British businesses ripe for takeover, so we could see some mergers and acquisitions.'
Henk doubts Brexit will have a high impact on business in her local area, though she predicts that Frankfurt, because of its banking industry, could be affected. Hartmann says that (at time of writing) Brexit had yet to have any effect on her trade. Donath believes it will on his business over time 'but it's difficult to say in which direction'. 'We're hopeful that the EU and the UK will find ways to work together for the benefit of both,' he says.
Focus on FAIM
Most Affiliates agree FIDI membership is a guarantor of quality, an aid to recruitment and a means of raising industry standards. Around 95 per cent of Donath International moves involve FIDI Affiliates as partners. 'For the most part, we know we can rely on them for good, reliable services,' says Michael Donath. 'As the saying goes "you get what you pay for". We've lost customers because of low prices, but been able to win them back. Many customers are mindful of employees' data security so look to work with a reliable certified company.'
Hartmann found a recent FIDI audit tough, yet worthwhile – 'it forced us to be on top of things'. 'Many people who previously used us 10, 20 or even 30 years ago come back for another move,' she says.
Sommer values the sense of belonging that comes with being part of FIDI. 'It is, first of all, a quality partnership community,' he says. 'This gives all involved a good feeling. It offers the possibility to network and make friends for life while doing business and helping each other.'
He enjoys 'the international and pragmatic business environment' of the moving industry and its 'daily challenges and opportunities'. Hartmann says her trade has 'never been boring… I am still learning… I love to work with people' – which was the consensus of most firms that FIDI Focus spoke to. Meanwhile, Suter's favourite period in the moving cycle is the 'crazy and manic peak season and summer months'. 'You can show your flexibility – no matter how difficult the situation, there's always a solution.'
As for challenging situations, Hartmann encountered one particularly memorable one a few months back. 'We received a call from a woman who owned a dog salon and had five of her own poodles,' she said. 'Her plan was to move to Las Palmas to open a salon there. When our surveyor visited the house, he found one floor for the family and one completely for the dogs, furnished with sofas, beds, toys, and machines for hairdressing and pampering the dogs. But we did the move, and the family started a great business.'
Moving is in the blood of everyone FIDI Focus spoke to, as is optimism amid rising levels of global mobility. But that's also tempered with realism and caution, perhaps best summed up by Henk. 'I'm optimistic, as we're committed to look for changes and to adapt,' she says. 'The old way of doing business won't keep you long in the market. But trying only to decrease costs to remain competitive isn't a solution in the long run – compliance, profitability, working conditions and quality will suffer.'
FIDI AFFILIATES IN GERMANY
| | | |
| --- | --- | --- |
| ANDREAS CHRIST SPEDITION & MOEBELTRANSPORT GMBH | AFFILIATE | FRANKFURT AM MAIN |
| ANPRIN GERMANY | AFFILIATE | FRANKFURT |
| BRAUNS INTERNATIONAL | AFFILIATE | BREMERHAVEN |
| DONATH INTERNATIONAL | AFFILIATE | FRANKFURT AM MAIN |
| FERMONT INTERNATIONAL | AFFILIATE | FRANKFURT AM MAIN |
| FROESCH GERMANY GMBH | AFFILIATE | BERLIN |
| FROESCH GERMANY GMBH | AFFILIATED BRANCH | KOBLENZ |
| GLOBAL MOVING SERVICES GMBH | AFFILIATE | MUNICH |
| HARTMANN INTERNATIONAL | AFFILIATE | PADERBORN |
| HASENKAMP RELOCATION SERVICES GMBH | AFFILIATED BRANCH | BERLIN |
| HASENKAMP RELOCATION SERVICES GMBH | AFFILIATE | COLOGNE |
| HASENKAMP RELOCATION SERVICES GMBH | AFFILIATED BRANCH | FRANKFURT AM MAIN |
| HASENKAMP RELOCATION SERVICES GMBH | AFFILIATED BRANCH | HAMBURG |
| HASENKAMP RELOCATION SERVICES GMBH | AFFILIATED BRANCH | MUNICH |
| HENK INTERNATIONAL | AFFILIATE | DUSSELDORF |
| HERTLING GMBH & CO. KG | AFFILIATE | BERLIN |
| HERTLING GMBH & CO. KG | AFFILIATED BRANCH | DUSSELDORF |
| HERTLING GMBH & CO. KG | AFFILIATED BRANCH | FRANKFURT AM MAIN |
| INTERMOVE GMBH | AFFILIATE | MUNICH |
| ITO MOBELTRANSPORT GMBH | AFFILIATE | BREMEN |
| ITO MOBELTRANSPORT GMBH | AFFILIATED BRANCH | HAMBURG |
| KUECHLER TRANSPORTE GMBH | AFFILIATE | DUSSELDORF |
| KURZ INTERNATIONAL MOVING COMPANY | AFFILIATE | FRANKFURT AM MAIN |
| MAX JACOBI MOVEMANAGEMENT | AFFILIATE | KIEL |
| PARAMOUNT TRANSPORTATION SYSTEMS EUROPE GMBH | AFFILIATE | FRANKFURT |
| PAUL V.MAUR GMBH | AFFILIATED BRANCH | DRESDEN |
| PAUL V.MAUR GMBH | AFFILIATE | STUTTGART |
| STERLING RELOCATION FRANKFURT | AFFILIATE | FRANKFURT AM MAIN |
| TRANSPORT KRUMPF GMBH | AFFILIATE | HAMBURG |
| VOKUS MOVING LOGISTICS | AFFILIATE | FRANKFURT AM MAIN |