Each year, FIDI's 39 Club runs a scholarship essay contest for young Affiliates, inviting the author of the first-placed entry to take part in the FIDI Conference. Here, current winner Katlyn Witherspoon, International Move Coordinator at Daryl Flood Relocation & Logistics, talks of how she came to join the industry and the march that inspired her essay
FF: Please tell us about your background:
KW: I was born and raised in the United States, and went to study abroad in Germany when I was 20 years old – I might add, I am neither German, nor are my parents military – and one year turned into almost seven! In this time, I completed my Bachelor's degree in German and a Master's degree in Indo-European linguistics. I was able to travel to several countries and get to know people from all over the world and all corners of Germany.
I became involved with TOS Church in Tübingen and the March of Life movement. These were eye-opening years, and the March represents a cause that I care about deeply. In 2016, this led me to Texas, where I worked part-time as the National Coordinator of March of Life for the USA (March of Remembrance).
I have worked in other jobs, including at German delis, in hospital administration, radiology scheduling, German language lessons, driving for Uber and working in a preschool.
In November 2018, Roger Moe, from Daryl Flood, contacted me via LinkedIn, as they needed a German speaker for import/export business. I was intrigued by the international nature of the position, but, honestly, I did not have the faintest clue what I would be doing. They took a risk on my novice status and I am really grateful to have been given the opportunity.
FF: Where do you work now and describe your career to date?
KW: May marks my 18th month with Daryl Flood. I started in a supportive role for import/export business, primarily in and out of Germany. In February 2019, I had the opportunity to to attend the EiM seminar through FIDI in Jacksonville, which was a fantastic experience.
I was warned it would be akin to 'drinking from a fire hose' – and I can confirm that this metaphor holds true!
The programme was highly informative and thought-provoking, with the chance to make friendships and memories with coordinators, salespeople and mentors from multiple countries. We had a blast. In the months that ensued, I began training on corporate moves, picking up side projects where possible and joined the FIDI 39 Club. In October 2019, I attended my first IAM convention. This was another experience that broadened my horizons. I learned so much that was business-related, but it was also refreshing to experience the family atmosphere that is so widespread in this industry. This year, I have been training to be more involved with corporate moves, but I assist where needed.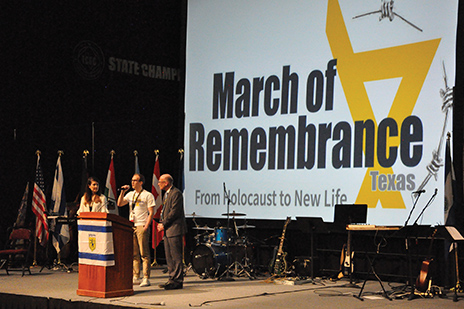 FF: Please tell us about your winning essay
KW: I was not even sure I could write the essay. I feel like I have received more through the March of Life than I could have ever given in return. Learning to break the silence over antisemitism and indifference has impacted me in many ways – not to mention the takeaway experience of being in a leadership role.
What makes the March of Life unique in the world of Holocaust remembrance and education is the pursuit of reconciliation. Words cannot express those moments, as they cannot be orchestrated. I am reminded of a remembrance event that I attended in Hungary in 2014. This was a side event to several marches that were taking place. The facility was built out of brick, mostly decayed, that had been used as a work camp during the Holocaust. The heaviness in the air was crushing, like weights on our shoulders.
There was a band playing and, as they played, the daughter of two Hungarian Holocaust survivors began to dance. Pretty soon, more and more people jumped up to join her – forming large dancing circles, everyone locking hands. All of a sudden, new life sprung forth in the darkness of the past.
Tears of mourning turned into tears of joy. Descendants of Holocaust survivors dancing with descendants of Nazi perpetrators – and this in Hungary, where antisemitism is prevalent. This moment is a snapshot, for me, that represents the movement.
(www.marchoflife.org)
FF: Are you looking forward to going to the FIDI Conference in Osaka in 2021? Why?
KW: Absolutely! I am thrilled to be able to join the Daryl
Flood team and FIDI 39 Club for the 2021 Conference. It will be amazing to see friends, continue getting to know members of the industry and engage with my generation at the conference.
Collaboration is needed, and helps build vision for the future of our companies and industry. We are standing at a unique crossroads in history, when we are likely to see more familiar practices challenged and replaced by new methods and technologies. I think this is something we should be proactive about to help shape the culture of what is to come. No single coordinator or company can do that on their own – we will need each other.
FF: What do you want to do in your future career?
KW: I am intrigued by partner relations, but am curious about other roles as well. I always tell people I am a pain for my manager because I always have lots of questions, and am always seeking opportunities to learn and grow.
In the future, I hope to become an asset for my team that is versatile and can be employed in any area, from account management to partner relations or other leadership positions. I would also like to lecture at universities in my spare time.
FF: Is there anything you want to add?
KW: I am surrounded by amazing peers who are so well-established in the industry. I am grateful for mentors, whether veterans of logistics or people my age in management, or even running their own companies. Thank you for letting me join the family and learn from you. I am looking forward to future endeavours together.