Large sections of the international moving industry have begun a gradual return to work as governments of many countries began to relax measures restricting movement because of the COVID-19 pandemic.
Many relocation businesses that had been paralysed, in part or in full, by lockdowns have been able to resume moving activity, albeit with new safe-working measures implemented to protect staff and customers. These include admin and other office-based employees continuing to work from home and moving staff expected to adhere to new procedures, including wearing masks and gloves, frequent hand washing, disinfecting regimes, and social distancing as far as is possible during jobs.
Canada and the US
Derek Duffy, President of Canadian Armstrong International in Canada and FIDI Board member, said work volumes had fallen, although clients had initially brought moving dates forward to get ahead of lockdowns, and 'we also received moves requiring immediate execution, as expats preferred to be in lockdown in their home countries, rather than their host countries'.
Duffy added that removals shipments caught in transit and needing storage space as travel restrictions hit had offset a small amount of the revenue lost from the fall in business. Meanwhile, he added, with clients and their families often confined to their homes, it had been challenging for staff to maintain physical distancing measures.
In the US, companies providing moving services for military families must now adhere to strict new measures to protect against the spread of the disease (see box, page 17). Meanwhile, according to the website military.com, around 12,500 military families had been moved by mid-May under exceptions to lockdown conditions.
Bill Brill, VP/GM at Texas-based Daryl Flood Relocation & Logistics, said air-travel restrictions had prevented clients from travelling to their assignments and that the company was asking its corporate clients to initiate moves so it could gauge demand for the peak season that it expected ahead.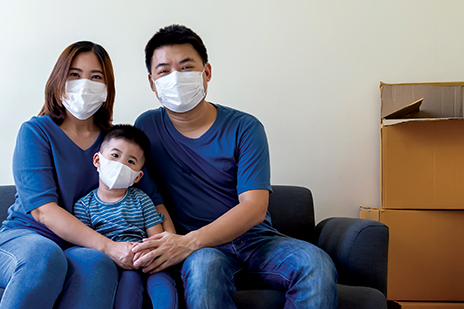 He added that Daryl Flood had expanded into final-mile logistics services for household appliances, which has proved to be 'remarkably pandemic-proof, as consumers shifted their purchasing dollars towards household appliances during nationwide government stay-at-home orders. As part of the logistics and transportation industry, there are many synergies that exist between our industry and the broader market.'
Asia
Rob Chipman, CEO of Asian Tigers Hong Kong, said that COVID-19 had led to an acceleration of interest in internationally based business executives leaving Hong Kong, as it compounded push factors caused by worsening US/China relations and recent civil unrest. Meanwhile, there had been an opposite effect in Singapore, with outbound business slowing dramatically and expats there preferring to 'hunker down' in the country as the crisis took hold. The difference between these countries was political stability, rather than spread of the infection, which had been higher in the latter, Chipman said.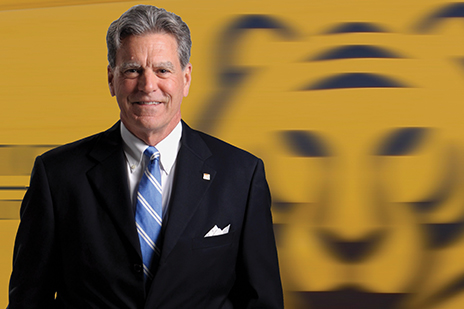 Managing Director of Mobilitas/AGS Group and FIDI Board member Cédric Castro said the business's worldwide network had faced general challenges, including a drop in demand, lack of visibility and cash-management issues, in addition to local obstacles such as: government restrictions on moving in markets including France and Russia; closure of borders (starting with Poland then across Europe); and the lack of financial support for the business in countries such as Hungary.
Aakanksha Bhargava, CEO of PM Relocations in India, said the company had adapted quickly, with new safe-working practices in accordance with World Health Organization (WHO) guidelines, and she expected the crisis to bring about lasting changes to the moving industry.
'This transformational time has motivated us to explore the process and business operations in a more personal, safe and secure manner than before,' she said, adding that Indian movers would need to make permanent changes to ensure the country's progress as an outsourcing hub for multinational organisations could continue as lockdowns were relaxed.
Europe
Some of the countries that have been worst hit by coronavirus – including Italy, Spain and the UK – began opening up parts of their economy from May.
In the UK, house viewings and moves resumed after a government relaxation of lockdown measures, announced in the week commencing 10 May, saw people encouraged to return to work if they were unable to work from home. Accordingly, the British Association of Movers (BAR) revised its recommendations, stating 'a cautious approach to returning to operational activity may now be possible'. However, it added that, as the industry was unable to comply with government social-distancing measures, its members 'must, therefore, take all appropriate measures to mitigate any associated risks'. It is one of the many national associations that has published guidelines on reducing risk for movers and their customers.
Italy, Portugal and Spain, which had enforced some of the strictest lockdowns in the world because of COVID-19, announced a gradual relaxation of the toughest measures during May, allowing people to move more freely, a precursor to restarting restricted businesses.
In Milan, Max Ajroldi, of Franzosini Intl Movers, told FIDI Focus that the company's activity had 'almost completely stopped' during the lockdown. He said he expected the crisis to cause casualties in many industries and for there to be permanent change in the moving industry. 'We expect an increase of general costs to perform any kind of move – such as freight or costs for origin and destination and long customs procedures – because of all the new safety rules that all governments will be forced to impose,' he said. He added: 'I'm sure, at the end, we will win this war, even if it's with a lot of casualties.'
In France, trade associations published guidance for the moving business to restart work while limiting COVID-19 transmission, after restrictions requiring moves to take place only in exceptional circumstances were lifted on 11 May.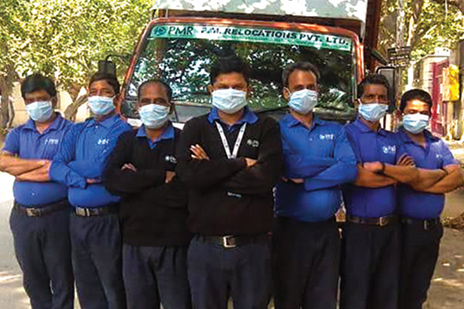 FEDEMAC President Bertil Durieux said the impact on the expat moving business would depend on the sector. 'It is highly likely that some relocations will be postponed until 2021 or later, also taking into account school calendars,' he said. 'Certainly, the HR departments will have their work cut out for them with such changes in staff movement schedules. For office moves, the impact should be less. The construction or renovation of buildings planned for 2019 or earlier are either in the process of being completed or completed.'
Durieux added that moving private clients may temporarily help moving companies survive, 'as the domino of house and apartment sales, purchases and rentals has been very shaken, and opportunities will be more numerous and rapid as soon as deconfinement is generalised throughout Europe'.
The moving industry was classified by government as an essential service in several countries. Dale Collins, Chief Strategy Officer, Graebel, said that, because of this, the industry in many countries had been 'functioning, albeit at much-reduced levels'.
He added that the key challenges for movers during the crisis had been 'reduced levels of manpower to perform jobs; safety and hygiene regimens that must be translated into costs for both materials and labour; and new attitudes toward work in general, so persuading and rewarding someone to work in an environment that is not 100 per cent guaranteed to be virus-free all the time'.
Sara Lyrum, Group Director of Aspire Mobility Group, said while the government message in Denmark had been 'stay at home', transport had been earmarked as an essential service, so office staff worked and the company remained fully operational for moving, immigration and relocation services.
'The Danish customs authorities had to rearrange the import criteria for household goods shipments, but it worked out quite fast,' Lyrum said. However, there were obstacles to smooth operations, she added. 'We are seeing challenges in our visa and immigration section during the current lockdown, as EU citizens cannot be registered in Denmark, whereas non-EU citizens can. Furthermore, as people have limited options to fly into Denmark, most of our DSP services are presently on hold or postponed.'
South America
In Brazil, Laura Ganon, CEO of Rio de Janeiro-based FINK Mobility and FIDI's Vice-President, said moving had been classed as essential by the government, but the company had to adapt many parts of its operation to mitigate the risk to its team and customers. She added: 'In many cases, another challenge is to help our customers convince their condominium [apartment or housing complex] managers to accept the move to be packed or delivered, because the building they live in is not letting people in from outside. In these cases, we have had to reassure them of all our health and safety protocols. Many storage customers are asking us for reductions or for free storage; we have to analyse each case to make sure we are fair and understanding in such a difficult situation for everybody.'