With two full years of Affiliate data now available, FIDI's Business Confidence Barometer provides an essential illustration of the evolving mood within the moving industry and the background against which companies are likely to be trading in the near future. FIDI Secretary General Jesse van Sas reports on the latest results
Aggregating large amounts of data over a longer period of time can give fascinating results. This is the case with our FIDI Business Confidence Barometer project.
Now that we have our second year of full data results, it is getting really interesting. We can see a pattern – and it actually makes sense.
We started this Business Confidence Barometer for movers in the last quarter of 2019, right before COVID hit the world. The idea behind the project was to measure how optimistic or pessimistic you all were about your business, as well as data on key indicators such as your revenue, prices and workforce.
The tool was immediately tested by the global crisis, plummeting the barometer from cautiously optimistic to deeply pessimistic. The second quarter of 2020 gave us a particularly gloomy outlook. Since Q3 of 2020, however, we have seen hopeful signs in the barometer – slowly at first, but increasing at the beginning of 2021, just as vaccines arrived on the world stage.
With full barometer results from 2021 in hand now, we can see optimism returning to the industry. This has been confirmed by news, from all of you, that 2021 has been a very busy year, with revenues matching or topping those of 2019 for some. Entrepreneurial confidence in the moving industry seems to be back.
It is not a rose garden yet, however. Revenues are up, and price levels are under control, but increasing costs are weighing on the margins, so optimism is generally lower with regards to these. This confirms a view many of us have been defending for a while now: movers must find a way to pass these costs – which are beyond their control – on to the customers, to safeguard the longevity of the business. There is no point in riding it out: many of these external costs are here to stay.
The FIDI Business Confidence Barometer will further gain in value as quarters of data are added. It is fed by FIDI Affiliates, and can be used to monitor output growth and anticipate turning points in our activity. It helps FIDI gauge the industry mood: are movers optimistic, and should a boost in business be expected, or is the industry slipping into another recession?
A business confidence index is a welcome addition to the many other indicators in our industry, and will help FIDI to adjust its services – and even determine our next strategic options. More importantly, however, it will help you benchmark your own efforts and results, to plan better, invest with knowledge, and increase your confidence when considering future projects.
How does it work?
The FIDI Business Cycle Barometer compares figures for the current quarter against the same quarter the previous year, and asks Affiliates to share their expectations for the upcoming quarter, compared with the same period the previous year. Analysing the average of these results, we can monitor the overall evolution of entrepreneurial confidence in the industry over time. The following parameters are measured to arrive at an overall entrepreneurial confidence score:
Revenue increase or decrease
Prices increase or decrease
Profit increase or decrease
Office staff increase or decrease
Crew and warehouse staff increase or decrease
Each quarter we measure the effective change against the same quarter last year, and the expected change the following quarter, compared with the same period the previous year. The results are scored as positive responses minus negative responses, giving a net balance for each parameter. These are then averaged in an overall score or net balance: above zero reflects improving business confidence; lower than zero shows falling confidence. A positive outlook can be regarded as healthy for the near-term economic outlook.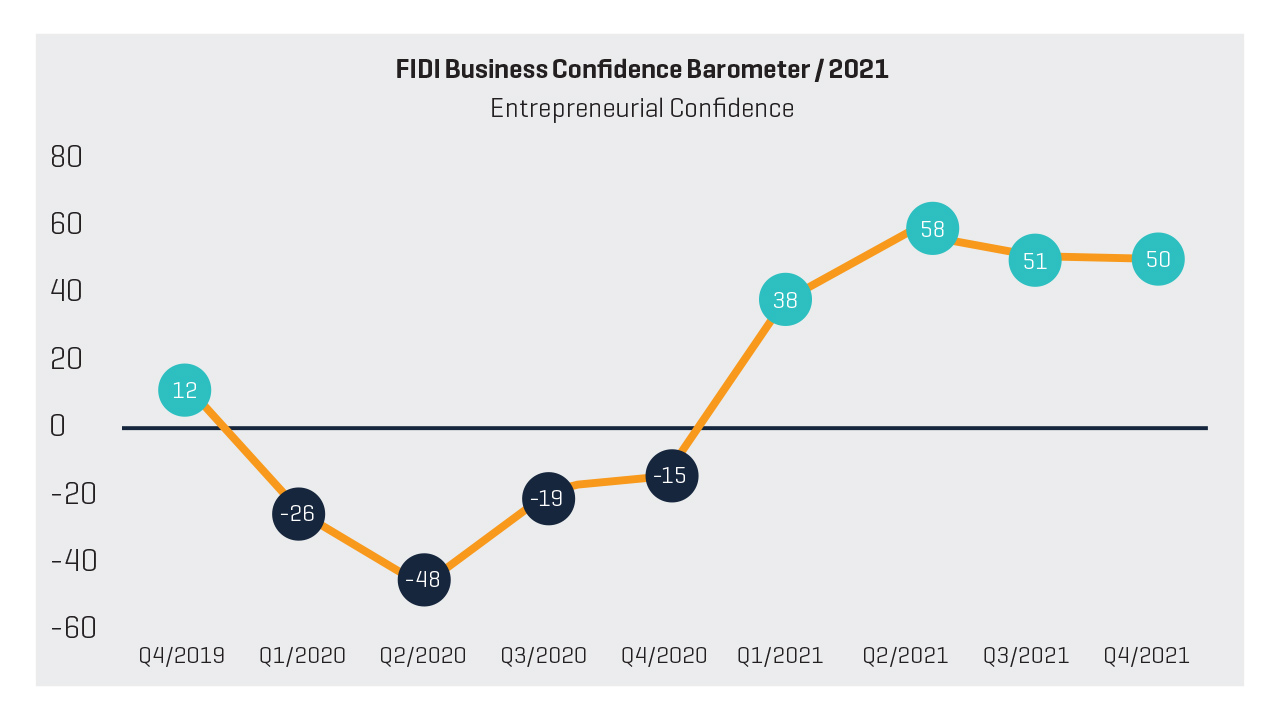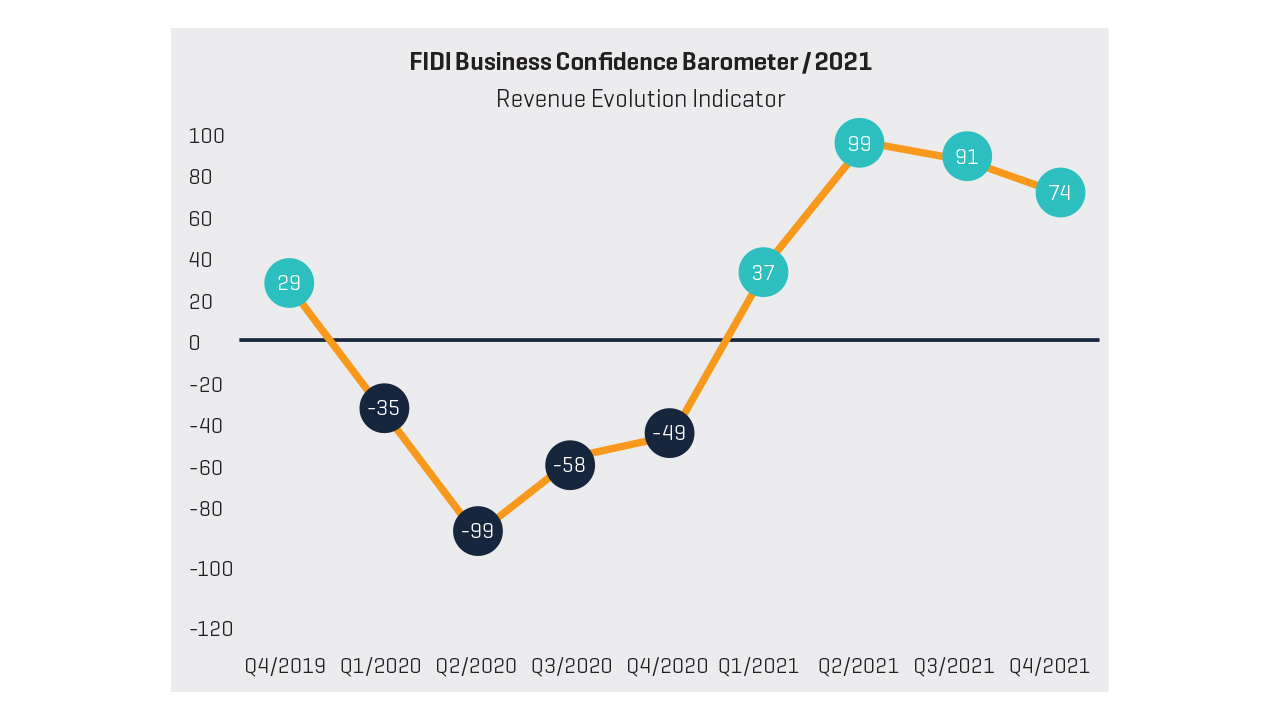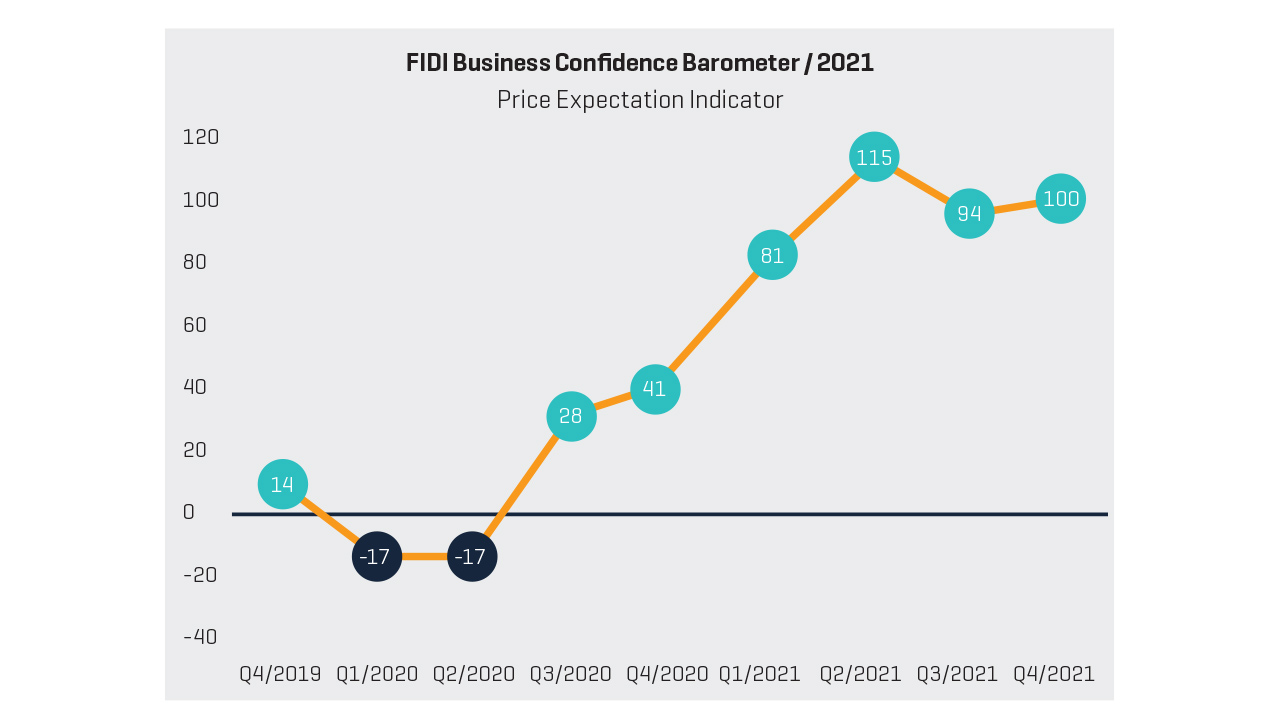 The EY FAIM Financial Assessment report – third edition
The yearly Financial Assessment was introduced as a FAIM requirement in 2019, initially as a two-year pilot project (extended by a year because of the COVID-19 pandemic). To comply, FIDI-affiliated companies have to send in specific documentation related to the previous financial year. This is checked by an EY auditor using the specially developed EY Credit Risk Barometer (CRB), and each company receives their financial report with their EY CRB score.
At the end of a full year, EY collates the information into a report on the financial stability of the entire FIDI membership. Now in its third edition, the 2021 EY Financial Assessment will be available to download from the FIDI website from early April.

The 2021 FIDI Business Confidence Barometer can be downloaded from the publications page of the FIDI website: www.fidi.org/publications.
To be part of the project and participate in the quarterly surveys, please reach out to Lydia Cope at lydia.cope@fidi.org