As more movers branch out into the provision of destination services, FIDI is expanding the scope of its FAIM certification with a new DSP module, trialled successfully with a pilot group of Affiliates. Dominic Weaver speaks to them about the audit process and the benefits the new accreditation will bring
While FIDI's FAIM is the international moving industry's most respected certification programme, changes in the business have seen many Affiliates embark on new areas of operation that fall outside its current remit – specifically, destination service (DSP) activities.
To stay relevant to the wider relocation industry, FIDI has developed a specific DSP accreditation programme, which will be an optional add-on module to the existing FAIM certification, open to FIDI-affiliated companies. It has a similar compliance procedure to the main FAIM programme, with an independent auditor (EY) who, during an onsite audit, checks that the company is adhering to specific requirements for its DSP operations.
FIDI has completed a pilot project with some Affiliates that offer DSP services, before it rolls out the accreditation programme fully in October this year.
De Haan has expanded into DSP through dedicated partners and the new audit was an opportunity to learn more and ensure it is providing the quality of service its customers expect.
Linda Rovekamp, De Haan Global Manager Household Moves, says: 'After discussing the information and looking at the requirements, we decided to be part of this. It is never too late to learn something new and we were really interested to go into more detail as to what DSP services are really about.'
'As a company, we like to progress and improve continuously,' says Kathy Chrisovergis, Managing Director of Celebrity International Movers, the first company to attain the new certification. 'FIDI FAIM certification is widely recognised and respected, so it makes sense that, as a premium DSP provider, we hold ourselves to the same standards in that department
and are able to back it up with the high standards that FIDI certification guarantees.'
At SIRVA, Relocation Director Angela Jackson says the sector needed robust DSP certification with the same status currently enjoyed by FAIM. 'There are very few credible accreditations within the relocation industry,' she says. 'We were approached to take part in the pilot scheme for the DSP accreditation so thought it would be good to gain the certification.
'When we bid for new business, we are continually asked what accreditations we have. It has been good to add a DSP certification to the list when we respond.'
Santa Fe Relocation already checks on and standardises its DSP performance company-wide with its internal Perfect DSP programme, and welcomes the addition of an external, internationally recognised audit aligned to FAIM – and the opportunity to take part in the pilot.
Petra Boddé, General Manager Santa Fe Netherlands, says: 'It's all about consistency, which means providing predictable, reliable results to our customers every time we do business with them.
'It is a big added value that the FIDI FAIM-DSP audit brings accredited quality recognition of our Perfect DSP programme – performed by an independent global auditing firm.'
Sterling Lexicon in London also took part, taking the opportunity to benchmark its DSP provision as part of its overall quality monitoring throughout the business. Kaelyn Choo, Change Manager at the company, says: 'At Sterling Lexicon, we take both the vetting of our entire service provider network and our partnership with FIDI – including all of the standards and protocols that go along with those relationships – very seriously.
'We know how important it is that every employee experience, across all touchpoints of their journeys with us, is a positive one, and we saw this as an excellent opportunity to have a third party validate that our DSP processes meet or exceed not just our standards, but the stringent and thorough industry requirements of FIDI and FAIM as well.'
Turkey-based Asya began offering DSP and immigration services in 1996, but, with a well-established reputation as a mover in Turkey, it took the decision to set these services apart by establishing a separate DSP wing, Bedel Mobility Solutions. It was one of the first businesses to be certified under the new scheme.
President and Director Ebru Demirel says: 'The reason was to give confidence to consumers that we are not a moving company trying to offer DSP as a side business, but a DSP company dedicated to offering DSP and immigration services. We always believe in quality in everything we do.
'If you are running an honest, high-quality business, there is no reason to fail. Being a long-standing FIDI Affiliate through our parent company, and experiencing how FIDI sets standards for the industry, it is very beneficial for our company to be accredited by FIDI in DSP as well. And we are proud to be one of the first ones to be accredited.'
At Sterling Lexicon, Choo says the value of holding an authoritative DSP certification is clear: 'We can continue to demonstrate to our customers and stakeholders that our DSP processes meet the very high standards set by FIDI, which are validated and confirmed not only in the marketplace, but by an independent and reputable third party,' she says.
Demirel adds: 'It proves that we are a company operating with certain industry-specific standards. It is not enough to say "yes, we do," we need to be able to demonstrate it, and third-party audits are the way to do it.
'As FIDI has been so successful in setting quality standards, we feel confident that in the long run we will experience the benefits even more. The FAIM programme started back in 1997 – and now it is embraced not only by FIDI Affiliates, but all stakeholders in the mobility industry, including customers.'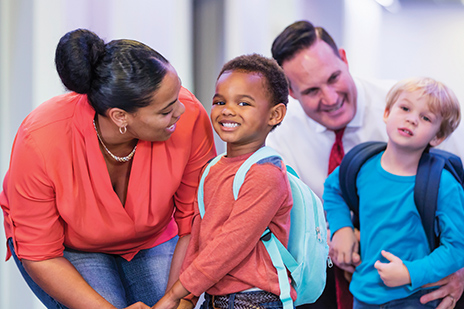 The audit process is designed to be straightforward and to follow a similar format to FAIM, already understood by Affiliates. Boddé says: 'FIDI audits the following DSP services: orientation; home search; school search; settling-in; and departure services. The audit programme helped us to further standardise our internal processes but also allowed us to document processes around technology, corporate responsibility, supply chain management and customer feedback. The audit day was interactive and pleasant, with much room for discussion and explanation; while the audit report, performed by an independent global auditing firm, was very detailed.'
Rovekamp adds: 'Overall, the audit process was quite simple. Information was provided in advance and we were coached through it every step of the way. In the end we received some additional feedback to better the DSP process and how we could apply this more efficiently within our teams.'
'It's a two-way process,' says Chrisovergis, 'where you are challenged to prove your current excellence, and also to improve in order to reach the necessary higher standards for certification. Once the majority of FIDI DSP providers undergo it, it will become a necessity and not just added value.'
Choo adds: 'We found the process to be highly organised, very consistent with the simultaneous FIDI FAIM moving audit process, and easy to complete. The provision of a self-serve checklist prior to the onsite audit made the entire process quite seamless. The experience was a highly valuable and rewarding exercise.'
SIRVA's Angela Jackson also found the audit methods simple. 'The process was very clear,' she says. 'There was a lot of upfront work, and we needed to provide a lot of information and back up documentation ahead of the day of the audit, which was quite time-consuming. The audit itself went very smoothly and I am pleased to say we passed without any failures.'
Demirel says, as holders of both FAIM and EURA certification, her business is used to taking part in regular auditing.
'The [DSP] audit was done the same day we had our FAIM 3.2 audit for our moving company,' she says. 'The overall audit process went very smoothly, yet we still had some learnings, as the EY auditors from Belgium are knowledgeable about the mobility industry. What I especially like about FAIM audits is that the main focus is not only on the policies and processes; they also focus on details of our customer files according to industry specifics.'
Rovekamp says De Haan also learnt from the experience. 'Taking part in the DSP audit allowed us to understand in greater detail what our customers really need – as well as being able to truly follow how our DSP partners work and accommodate customers,' she says. 'It has been incredibly valuable – we can now bring our relationship with long-term committed DSP partners to the next level.
'We would definitely recommend taking part in the DSP audit, it gives us additional knowledge and, in being open to new things, we hope to inspire and motivate all our teams to expand their minds. I hope to see more removal partners do the same.'
Demirel is another enthusiastic advocate for the new certification. 'Being a FIDI mover does not only mean one is a quality company, it also shows a mindset and the culture of the company,' she says.
Chrisovergis says: 'It's very comforting to know that globally we can all speak the same language. We can all share the same documentation and prove our quality to our global clients. I believe that the companies that offer a one-stop shop for clients' moving and relocation needs have a strong competitive advantage and this is something we must focus on.'
At Santa Fe, Boddé says the FIDI FAIM-DSP accreditation will be an important differentiator in the market. 'FIDI is a very well-known and respected brand in our industry and is setting the highest quality standards in the international moving and relocation industry,' she says. 'The recognition as one of the first accredited FIDI Affiliates to obtain the FIDI FAIM-DSP certification quality seal is something that we are very proud of.'
'FIDI DSP certification might be new but knowing how FIDI sets the standard according to industry specifics, it will gain great recognition in time,' adds Demirel. 'Being part of something new, rather than trying to catch up, is always a good sign of thinking long term.'