Nigeria, Ivory Coast and Senegal in West Africa are very much open for business. Andrew Mourant reports.
Few places in Africa offer richer opportunities than Nigeria. The continent's most populous country – 181 million and rising – is also one of the world's biggest democracies, albeit an imperfect one. It has a broad-based economy with oil, gas, minerals and agriculture all playing a major part. And while it has problems with its image – that of endemic corruption – Nigeria remains a place where the world is keen to do business.
Nigeria's size can take some understanding. There are 36 states and one capital territory; four international airports and two immense seaport complexes – to the west, one with its headquarters at Apapa, Lagos; to the east, one based at Port Harcourt.
Lots of inward and outbound movement, then – a jostling, thriving country where trustworthiness is valued above all else. For IAL Nigeria Limited, belonging to FIDI isn't just about reputation and benchmarking, but making contacts, and the window it gives the company on the wider world.
'We've been a member for some years and derived great advantages and benefits,' says IAL chairman Ismail Lawal. 'It helps us network with colleagues and other Affiliates. FIDI is all about people, especially at our annual meetings, though we're in contact with each other throughout the year. Network opportunities offer so much to us.'
IAL's main business areas are international logistics and supply chain management, although it is involved in the domestic market, too. This covers all sorts of services: freight forwarding; relocations and removals; project logistics for oil and gas; and the power and telecoms sectors. Then there's warehousing and storage, exhibition logistics, and road haulage. And, last but not least, handling dangerous goods – radioactive material and explosives.
'We've maintained steady growth over the years, despite a downturn in the economy,' says Lawal. Much of this he attributes to IAL's drive for accreditation standards such as FAIM. 'It's proven our commitment to quality in all our business processes, and a zero tolerance approach to bribery and corruption,' he says. Meanwhile, timeless virtues such as punctuality, efficiency and business integrity have helped IAL see off would-be competitors, he adds.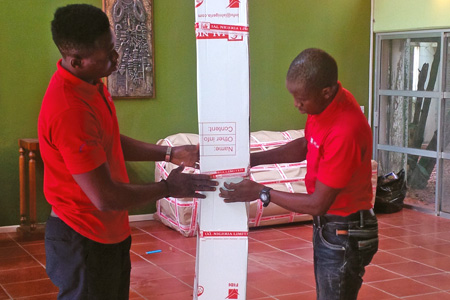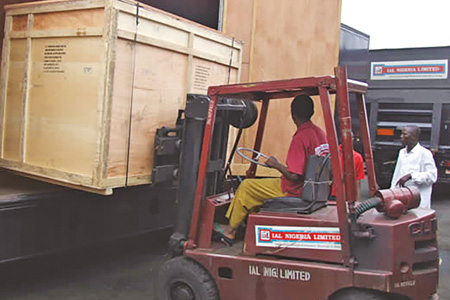 IAL's longevity reflects an ability to deal with anything thrown at it. Often, doing business in Nigeria is less straightforward than it ought to be. Last November, Nigerian newspaper Vanguard reported accusations that the Nigeria Customs Service had stalled the 'ease of doing business' at seaports, despite a directive from the country's vice-president aimed at encouraging investments in the country. Instead, some businesses had to face multiple checks within and outside the ports, making clearing processes horribly cumbersome.
According to Jonathan Nicol, chairman of the Shippers Association of Lagos State, the blame lies with a Federal Government target given to customs, which created a culture of excessive bureaucracy. Not only that, Nicol reported his members were 'subjected to all manner of charges, both legal and illegal.' The League of Maritime Editors, following the closure of warehouses around Lagos, deplored what it called 'the extortionist tendencies' of customs officers.
A headache for IAL, surely? Far from it, according to Lawal. 'It's absolutely untrue to state that customs create problems,' he told FIDI Focus. 'What causes multiple checks are intelligence reports about items being smuggled into the country.
'IAL is very much conversant with the tariffs and nomenclature that spell out classification and duty payable. Once the declarations are correct, there's no difficulty. Clearing is simple and straightforward unless it is ambiguous with the intention of concealment.'
Far away from the economic hotspots, some regions of Nigeria can be awkward to work in. But IAL knows the lie of the land and appears unfazed by the potential obstacles that can come up. 'We have no problem extending our services to remote parts of the country
– we have a range of haulage and transport equipment to meet all exigencies,' says Lawal.
'Terrorist activities have no effect on business activities in Nigeria. Although the Jihadist Boko Haram insurgency began in 2009, the army is on a final push to flush it out from the north-east. Business activities are going on uninterrupted, especially in the south, north- west and north-central areas.'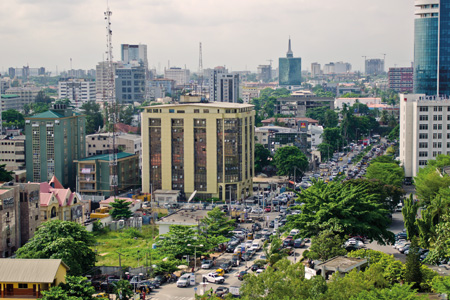 As ever, in a situation of constant flux, trade is plentiful for reliable removals and logistics operators. In recent years, Lawal has seen his industry invest more in business development and pursuing corporate accounts. 'Price plays a major role as competition grows within the mobility industries,' he says. And, of course, there's been the shift whereby international firms now run logistics and relocation requirements from their corporate HQ, far away in Europe or the United States. As such, local decision-makers have much less scope when it comes to striking deals on moves.
Emerging markets for IAL – logistics and haulage – include telecoms services, exhibitions and commodity exchange and distributions. 'In telecoms, a lot of equipment and accessories are moved in and out of the country for infrastructural development,' says Lawal. 'We're very much involved, especially with the customs handling and transportation of such items as lithium batteries and accessories, delta rectifier power systems, solar PV shelves and GPS tracking systems.'
The exhibition trade has become increasingly important, as international companies flock to show off the latest wares: agricultural products and equipment; medical equipment and accessories; and oil and gas supplies services, to list but a few. The aim is either to market directly or to find a local Nigerian partner in trade. 'We offer logistics inward and outward, but we also take part ourselves in these exhibitions,' says Lawal.
Carving a niche
Also flying the FIDI flag in Nigeria is Creseada International Ltd, which was established in 1985 and expanded into packing and removals in 2002. Armed with FAIMPlus accreditation, and now a freight forwarding and supply chain management supplier, Creseada is poised to extend its reach into central and West Africa. 'We've carved a niche in the Nigerian market and will be moving into Cameroon, Chad, Ghana and Central Africa in the next financial year,' says Babajide Ayinde, the company Product Manager.
Technology-driven changes help make this possible, he says. 'For instance, Creseada operations benefit from faster and more efficient visibility of job declarations, and tracking the status of customer shipments. There's also been an increase in regulatory compliance.'
There are, he adds, challenges in every market. 'But political stability and government fiscal measures to encourage foreign investment are a positive. As an increasing number of multinationals enter this region, the demand for relocation services rise. As for working in remote areas, our crews have a sound knowledge of the environment in which we and our clients operate.'
Thoroughness and doing things by the book are key to a smooth-running operation, says Ayinde. That means ensuring full and accurate documentation is available to everyone in the Creseada team, including driving crews, and customs processors. 'We give constant training, and use technology for fast-reaction communication. That goes right up to the senior management team.'
Ayinde, like Lawal, sees FIDI membership as opening the door for collaboration with 'similar quality-minded partners.' Last year, Creseada added FAIMPlus accreditation to its industry credits. Reaching this level boosts the chances of winning specialist trade that requires delicate handling. Recently, via the Belgian Consulate in Nigeria, Creseada got the job of transporting valuable artworks from the Nike art gallery in Lagos to fine art auctioneers Bonhams in Brussels.
Compared with Nigeria, the commercial climate in Senegal and Ivory Coast appears far less heated. Their populations are relatively small (15 million and 21.6 million, respectively). Consider also the three countries' relative gross domestic products (GDPs) per head: according to 2017 figures, $2,412 in Nigeria; but in Senegal less than half, $1,134; and in the Ivory Coast, $1,538. But that isn't to say things aren't buzzing in the two smaller countries, even though customs procedures and fines in Senegal have proved tricky in the recent past. Reports emerged a couple of years ago of a bizarre requirement to declare on a customs list such unlikely items as the oil being used in a ship's engine sump tank, along with on-board fire extinguishers.
Senegal and Ivory Coast
International mover AGS has a foot in both Senegal and Ivory Coast, operating across all sorts of industries and sectors – public and private, domestic and international. In Ivory Coast, new avenues of business include supplying ad hoc services and expertise to the African Development Bank for its internal removals or handling needs. 'We've also expanded our activities in special projects general cargo, fine arts transportation, and hospitality management – quite a few hotels are renovating and new ones are being built,' says Cedric Castro, AGS Managing Director and FIDI Board member.
'We assist with all logistics needs and storage, global mobility services and ever-increasing physical and electronic records management. AGS has invested heavily in building new warehouses and facilities dedicated to records management in West Africa. One is already fully operational in Senegal and a second one, in Abidjan, is under construction. Others will follow.'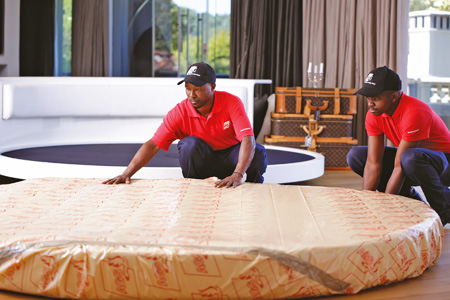 AGS Senegal had, Castro claims, 'a very successful 2018'. 'We expect that trend to continue into this year. Our biggest advantage is being part of the AGS brand and the AGS 54 Africa network.' Worldwide, AGS operates in 141 locations across 95 countries.
In Ivory Coast, infrastructure projects have been fast-tracked to open up the country's economic capital, Abidjan. A new highway and tramway (Métro) have, says Castro, helped alleviate congestion in one of West Africa's biggest cities.
'Business in both countries is easy and open if you understand the history, culture and needs in Africa,' he adds. 'The industry has been very steady over the past couple of years, but you need to be strong, professional and patient.'
The nature of AGS's business means it operates mostly in capital cities and urban environments. 'We don't often work in remote areas and, as a result, rarely face logistical challenges,' says Castro. 'We're also fortunate, as Senegal is one of the most politically stable West African nations, so we have very little disruption. In Ivory Coast, all eyes are focused on the presidential elections planned for 2020, but generally speaking the political context still looks stable… at this stage.'
Where does AGS see its emerging markets? 'New opportunities are opening in Mauritania and Uganda as petroleum industries are booming in both countries,' says Castro. 'Mozambique is also showing promise, as the country aims to be a major gas exporter by 2023. FIDI membership is a great advantage because it places our business and the services we offer on an international scale.
'Most of the competition we face in Senegal or Ivory Coast is from smaller, local companies. But our clients are familiar with FAIM accreditation, the quality seal they're looking for.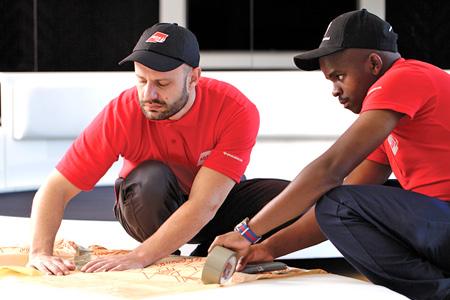 'We often have special operations that pose a specific challenge. Last year, for example, we helped a well-known transnational food and drinks company dismantle and store an entire laboratory, effectively completing the entire operation between Christmas and new year. We're optimistic for the future – the entire West African region faces very exciting times ahead.'
FIDI AFFILIATES IN West Africa
| | | |
| --- | --- | --- |
| IAL NIGERIA LIMITED | Lagos | NIGERIA |
| CRESEADA INTERNATIONAL LTD | Lagos | NIGERIA |
| AGS FRASERS IVORY COAST | Abidjan | IVORY COAST |
| AGS FRASERS SENEGAL | Dakar | SENEGAL |
| MAXI-MOVE | Dakar | SENEGAL |