After the Arab Spring caused upheaval across North Africa, some have been wary of doing business there. Egypt, though, has proved too big, too regionally important, to be shunned for long. Meanwhile, Tunisia remains fragile but resourceful FIDI Affiliates are making the best of the situation and, by contrast, Morocco has an enduring reputation for stability. Andrew Mourant reports
In its first post-revolution year, Egypt experienced what Jerry Nazzal, president of Express International Group (EIG) calls 'a massive outflux of people'. 'Import and export went quiet but, thanks to reforms over the past three to four years, the economy has picked up,' he says. 'People are coming to Egypt and reinvesting… people realise you can't rule out Egypt. It has pulled itself out of the low times.'
Approaching its 50th anniversary, EIG has travelled far since its inception in Cairo, where the firm's founder, Jerry's father George, ran a one-man show from an office on his balcony, bashing out business correspondence on a borrowed typewriter. When George, a high-profile figure in the industry, died last year, Jerry took over.
From these modest beginnings, EIG has expanded to cover all of Egypt, with headquarters in Cairo and offices in Alexandria and at Cairo airport. Business covers household, corporate and commercial logistics.
Egypt's natural and archaeological treasures – from Luxor to Sinai – attract not only tourists but those yearning to live among them, a trend EIG has exploited. 'People want a second home or to retire,' says Nazzal. 'Luxor has always been a world of wonder for many people. We also have a lot of activity at Sharm el Sheikh and El Gouna, the Red Sea resorts. People live there all year round, opening restaurants or buying a second property. There's a film festival at El Gouna every year – it's like a mini Riviera.'
EIG's corporate trade centres on the oil and gas industry, and the constant moves of senior management. Another lucrative sector is embassy business. Egypt has become a regional base amid the absence of a diplomatic presence in troubled countries such as Syria. 'Embassies such as that of the US and UK are huge,' says Nazzal. 'We also have international schools where teachers are hired from outside Egypt.'
The company, which employs 135 people, has also expanded into logistics. 'We couldn't rely on household activity (in the aftermath of revolution), so have developed this over the past seven or eight years.' However, Nazzal adds, household moves have since recovered.
Despite enduring bumpy times, Nazzal has always resisted becoming embroiled in a price war. 'We've taken the high ground and made a niche for ourselves using the corporate market… most people will come and ask for us.'
Egypt is slowly shrugging off the outdated practices that once throttled its economic development. 'The banking sector has upgraded; its technology is becoming more advanced. There's been an easing of regulation. We used to pay customs dues in cash and now do that online – everything you used to pay in cash is being turned into an e-commerce portal run by the government.' 
But modernisation still has a long way to go. 'We still have a small team of runners just taking paper and cash around,' says Nazzal. 'We have to catch up quickly. Internet speeds are slow, but the country has a lot of tech-savvy boys and girls. The revolution opened people's eyes and exposed the rest of the world. Change is coming.'
AGS Egypt is involved in international business on all continents, but especially in Africa, where it covers all 54 countries. Domestic moves are another growing sector. But trade dipped sharply after the uprisings in 2011 and 2013, so AGS widened its scope to include project coordination, relocation and immigration services.
Managing director Laurent Morel sees his main challenges as cut-price competition and the logistical nightmare of navigating trucks in Cairo, an overcrowded city of 20 million. 'Security isn't usually an issue,' he says. 'But as all shipments are physically inspected during export and import at points of entry, we have a permanent team in Alexandria to open, close and reload the goods in containers properly.'
The company's success comes down to well-drilled and dutiful staff, never more apparent than during the 2011 revolution. 'Our team demonstrated remarkable courage and dedication by staying at the warehouse for 10 days 24/7 to ensure the safety of in-transit and storage moves,' Morel told FIDI Focus.
AGS's policy is to attract young people keen on working in an international environment. Internal FIDI training enables them to develop. 'FIDI membership is a guarantee of quality for customers and our partners – joining more than 10 years ago has allowed us to increase business significantly.
'Cut-price competition is high in Egypt. We have to justify and convince our customers that quality has a price, and that we select high-level partners, so their personal belongings are handled properly.'
The strength that comes from belonging to a global company has been vital for the fortunes of AGS Tunisia – known locally as Carthago Moving and Storage – and helped it survive uniquely stressful times. AGS took control of Carthago in 2005, since when the country has to cope with fallout from the Arab Spring and the IS massacre of tourists at Sousse in 2015.
There was a major shift in the moving market when the African Development Bank (AFDB) headquarters decamped from Tunis to Abidjan, Ivory Coast, in summer 2014. 'It was a real challenge,' says branch manager Alexandre de Beauregard. 'That one move consisted of relocating 1,200 families with all their private belongings and vehicles, as well as bank assets, in cooperation with AGS Ivory Coast.
'Briefly, AGS Tunisia became one of the main national exporters, with more than 100 containers of family belongings on a single boat out of Tunis Port.' But it proved a short-lived boom. Over time, the Tunisian market has shrunk in size, volume and turnover.
'The company has had to adapt drastically to handle the post-AFDB era. But thanks to our agility, the AGS network and relationship with FIDI agents worldwide, the transformation has been successful,' says de Beauregard.
AGS Tunisia's trade is divided into three main categories: business on behalf of agents – mainly FIDI Affiliates – all over the world; business sent from the AGS network; and a local market of international removals, corporate and overseas.
'Despite the market's strong price competition, being a FIDI Affiliate in Tunisia adds value to our commercial offer,' says de Beauregard. 'It's a light of professionalism in a market where small participants do removals but without the FAIM quality level.
Besides grappling with homeland security, Tunisia has to live with its volatile neighbour Libya with which it shares a 450km border. Yet, Tunisia has also benefited from Libya's ill fortune – AGS's international market has
grown as diplomatic institutions and NGOs seek refuge. 'Libya was too dangerous, so the French embassy settled in Tunis.'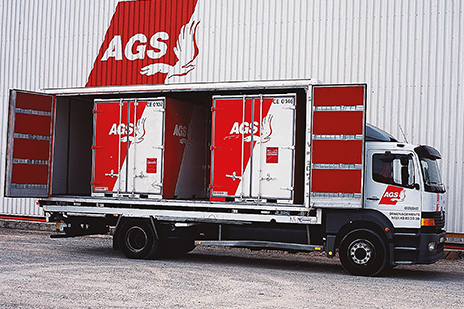 Outbound trade is growing. 'Our citizens are moving abroad more and more – Tunisia holds a pool of competencies and skills for international companies operating here, such as the automotive sector, food and drink industry, petroleum, distribution and the audit business.'
For Patrick Lemerrer, CEO of Deminter International group, Tunisia, the business focus is international corporate along with private and diplomat accounts. Recovery from the years 2014-16 – 'a descent into hell… no expatriates moving into the country, nor international companies investing' – has been slow.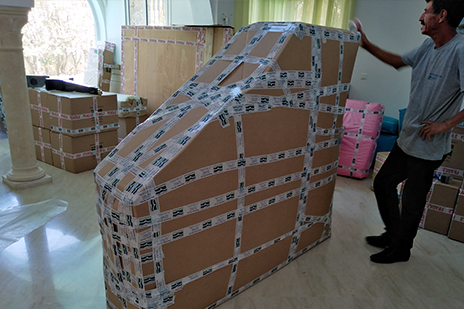 The country stabilised during 2017 and, says Lemerrer, 2019 has turned out to be 'a relatively good year'. 'Tunisia has kept a good image and this new democracy impresses the world,' he says, though he remains worried about regional stability. 'The government has done a good job in terms of security, but ISIS is still active in Libya, with many Tunisians desperate to return here to create chaos.'
Deminter has stuck to key business principles, with FIDI membership the yardstick in maintaining service standards. 'Being part of FIDI is really important,' says Lemerrer. He too avoids the scramble for cut-price moving, yet admits that operators with cheap prices and no quality control 'are in a strong place'.
Good employees, are, he adds, hard to find. 'Mine have a minimum of 10 years and some up to 25 years with me. I act as a family godfather and take care of them.'
Lemerrer worked for six years in Libya and believes that, if stabilised, it could become a major market – 'a fantastic country with such huge potential and nice people'.
'I hope to go back there soon. Although the situation in North Africa is still fragile, Europe is supporting these countries in their development. I think there's a real future this side of the Mediterranean.'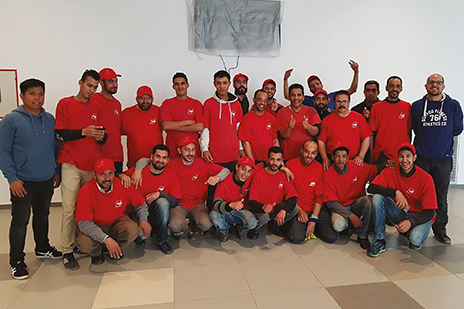 Compared with Egypt and Tunisia, Morocco has remained an outpost of calm. AGS has a presence there too, overseen by managing director Louis Thiercelin. Its services span the entire mobility industry – domestic; international; office moves; new furniture set-up; hospitality logistics; pet relocation; expat relocation and immigration; and fine art removal.
'The local market has increased a little over the past 10 years,' says Thiercelin. 'However, a lot of new competitors have appeared. We keep ahead by employing skilled personnel, from packers to the office workforce and management. Our move coordinators are multi-lingual. Many staff have been with the company for 15 to 20 years.
'Finding them is always a challenge but it's crucial – well-trained and highly motivated staff make the critical difference to customers. People who are retiring have a hand in vetting younger recruits – one now works alongside his father as a packer. Retaining them is easier, as we offer extra social security coverage, travel expenses and extra hours.'
'Some competitors are very strong on pricing. Our prices may be higher, but we are committed to finding the best value for money. We use economies of scale to find the best price for clients by leveraging our increased buying power from around 85,000 relocations per year.'
Thiercelin believes that FIDI membership brings, above all, stability. 'It's the reference for intra-moving companies and gives confidence that we have the resources and know-how to perform a successful international move.'
As the industry evolves, Thiercelin laments the erosion of personal links between mover and client. 'Moving companies seem to be dealing with objects and contracts, and clients care less about who transports their effects,' he says. 'We see the competition "Uberising" the profession, where services are offered on demand, usually via mobile technology, and relationships lost.'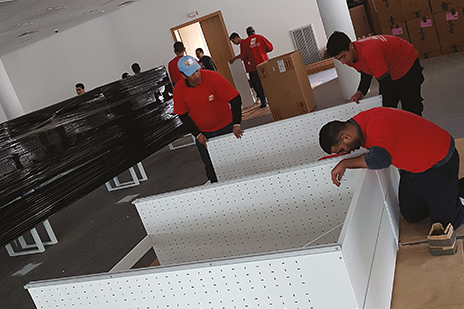 Like his fellow Affiliates in Tunisia and Egypt, Thiercelin sees Pan-African moves as a growing market. 'Africans are increasingly investing in their own continent. That means more jobs and implies an increase in mobility. This is just the start – we're really excited to see how the market will grow.'
Nazzal believes Africa will be 'the next big boom… the potential is great… in countries such as Angola where they're getting their business together.' And yet, he adds, much depends on African leaders 'doing more than worrying about now'. 'We don't have the sense of them thinking "let's plan for 10 years". That's the mentality of the region.
'Egypt will be a strategic location. The roads are much better – it has spent a lot on infrastructure in the past four to five years. The army has a division that does civil engineering contract work. When it builds roads and bridges, they're perfect.'
De Beauregard shares Nazzal's optimism for the future. 'AGS Tunisia, thanks to the back-up and policy of our network, is well settled in Tunisia,' he says. 'Our approach is to remain positive on a long-term basis, through the worst because of the AFDB departure and regional security issues. Hopefully these are behind us.'
Thiercelin, too, sees a bright future if firms will adapt and embrace change to remain competitive. 'It's clear that mobility is growing,' he says. 'That's good news for everyone in the industry.'



FIDI AFFILIATES IN NORTH AFRICA
AGS FRASERS EGYPT         
Affiliate
Cairo 
Egypt
EXPRESS INTERNATIONAL
GROUP
Affiliate   
Cairo      
Egypt
UNITED TRANS S.A.E
Affiliate  
Cairo      
Egypt
AGS FRASERS MOROCCO
Affiliate  
Casablanca       
Morocco
BEDEL   
Affiliate   
Casablanca    
Morocco
CARTHAGO MOVING & STORAGE
Affiliate   
Tunis       
Tunisia
DEMINTER INTERNATIONAL
Affiliate   
Tunis       
Tunisia