As demand slowly returns for their moving services after the height of the COVID-19 pandemic, FIDI's Affiliates in Vancouver, Canada, remain true to the city's long-held green ethos. Andrew Bennett finds out what international movers in this Pacific Coast city are doing to lessen their burden on the planet
For outside observers, the moving and transportation industries and a low-carbon existence are not natural bedfellows.
Appropriately enough, however – given that Vancouver was the birthplace of Greenpeace in 1971 – international movers bearing the FIDI-FAIM quality certification based in this British Columbian city take their environmental commitments seriously.
FIDI Affiliates have made green strides in recent years, and Worldwide Overseas Moving Service Vancouver is no exception.
Zoltan Kosa, general manager at Worldwide Overseas, says the principles of 'reduce-reuse-recycle' are applied across the business group.
'We focus on high-impact environmental sustainability efforts,' he told FIDI Focus. 'Packing materials are by far the largest contributor to our industry waste, and these are 100 per cent recycled.'
LED lighting is used across Worldwide Overseas' facilities, to reduce its energy consumption and provide cost efficiencies.
Eco news to shout about
Over at AMJ Campbell International Canada, staff feel there is plenty to shout about, too. Tom Finlay, General Manager for International, explains: 'We are currently procuring new, ethically sourced packing materials that are made from at least 30 per cent recycled materials. In addition, we clean and reuse pallets and lift-vans, use reusable, plastic moving bins, and meticulously sort out non-reusable packing materials so they can be recycled appropriately.'
AMJ Campbell believes it has also made a difference by reducing the impact of discarded furniture ordered online.
Although clients send furniture to the tip if they decide they don't want it, AMJ's team tries to repair the damaged, discarded items. This unwanted furniture is then found a new home – whether that is posted online or donated to charity.
'Our system keeps about 1,000 tonnes of "garbage" out of Canadian landfills,' says Finlay.
Armstrong International Movers, meanwhile, has been a partner of Tree Canada for more than 15 years. This leading Canadian charity plants trees across the nation where they are most needed, including in reforestation programmes and 'green' communities.
Jamie Wong, General Manager for Armstrong in Western Canada, says: 'Our clients, young and old, feel a connectivity to this programme, as we do our part to offset the carbon footprint the international moving community creates.'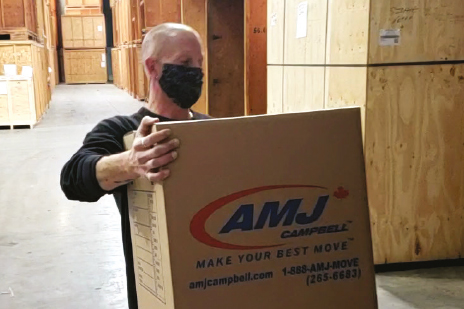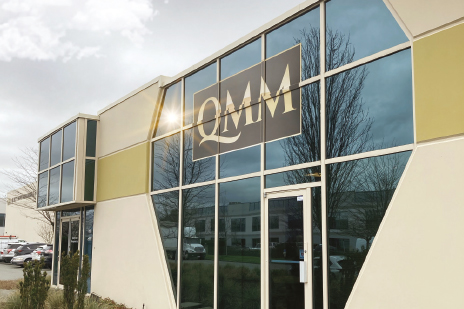 A paperless, low-carbon future
Quality Move Management Inc (QMM) has embraced a more sustainable future for its business, too. In 2020, QMM started its path to becoming a paperless workplace. During the past year, the company has been able to cut paper consumption by more than 50 per cent. From the start of 2021, all QMM drivers have also been using electronic logs in their trucks.
'We are among the industry leaders to initiate an electronic paperwork system for our drivers and crews,' says Tyler Fearn, International Manager at QMM. 'This allows our drivers and customers to receive, fill and sign paperwork relating to their move entirely electronically.
'The vast majority of our drivers are successfully using both the electronic logging system and the electronic paperwork system, and we expect our paper consumption to continue to reduce throughout our offices.'
FIDI Affiliates based in this attractive city are planning to go further. While electric trucks and commercial vehicles are not currently widely available in Canada, international moving managers are still considering upgrading their fleets.
AMJ Campbell's Finlay says that, as the business's fleet ages, 'we should be looking at replacing old vehicles with zero-emission vehicles'.
'The technology is becoming more viable each year, and courier companies are already using zero-emission trucks in Vancouver,' he adds.
Worldwide Overseas' Kosa believes such trucks would represent an 'intensive capital investment', but this would be an 'important step in sustainability efforts industry-wide'.
'Once the resources are in place to support fully electric tractors in Canada and the US, our drivers and teams will be on board with this initiative too,' says QMM's Fearn.
Looking beyond COVID-19
While, for many, the future seems brighter once a green agenda is embraced, the past year or so has not been easy for Vancouver, or Canada overall, because of the pandemic.
At the time of writing, British Columbia had recorded 122,000 cases of COVID-19 – although many of these patients have subsequently recovered – and more than 1,500 deaths. Across Canada overall, around 1.1 million cases of COVID-19 had been recorded.
Derek Duffy, President at Armstrong International, says: 'The pandemic continues to have a significant impact on the lives of Canadians, from coast to coast, despite the vaccination rollout. Armstrong is fortunate that our business does not rely solely on the Canadian economy. We control moves globally, which helps mitigate business risk. The volume of moves is down overall. At the same time, so are some of our expenses. Like most companies, we took swift action to ensure the company was set for success.'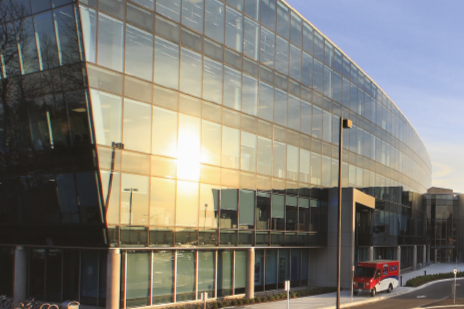 Worldwide Overseas witnessed a decline in corporate moves and demand for its destination services in 2020. So, incentives from the Canadian government were a significant help 'in supporting business continuity'. However, General Manager Kosa has noted optimistic signs: 'More than a year into the pandemic, we are seeing positive growth in both the export and import sectors,' he says. 'With the reduction in corporate business, the biggest factor affecting the overall moving industry now is the surge in home sales in BC [British Columbia].
'Customer inquiries significantly increased for local and domestic relocations. We are also seeing growth in international origin services. These factors have translated into robust revenues year on year.'
At AMJ Campbell, Finlay agrees the going has been hard. He says: 'Volumes are down, without a doubt. But rate requests are trending upward, and we feel there are people who were already in the process of moving who will finally be able to come to Canada.
'But as long as COVID restrictions are in place in Canada, it will be a tough slog. Hopefully, by the time this is published, we will all be singing a different tune.'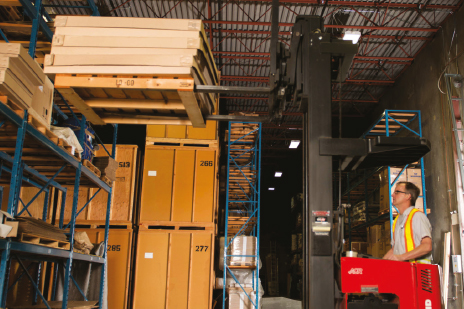 A great quality life
Vancouver, which has a population of around 700,000, continues to be a lure for expats and returning Canadians alike. Among many reasons is the fact that it is consistently named as one of the world's top five cities for liveability and quality of life.
There are also many other attractions of relocating to this city, although Vancouver's housing prices have long been high.
As Duffy at Armstrong points out: 'Despite the pandemic, Vancouver continued to be a popular destination for those residents of Hong Kong who were uncomfortable with the changing socio-political relations between mainland China and Hong Kong.'
As well as its strong multicultural character and access to a wide range of outdoor sports, the city has a strong economic and business base. It is also surrounded by a natural backdrop of the ocean, the wildlife mecca of Vancouver Island, and mountains, which make the city an aspirational place to relocate to for many different groups of people.
Positioned close to the United States border, and with the city of Seattle just 220km (140 miles) away, Vancouver is home to a thriving tech industry. This has resulted in many employees moving between headquarters in Washington state (in the US) and Vancouver.
As Fearn at QMM points out, the city has also been dubbed 'Hollywood North' for its booming film industry, and it's not unusual to spot A-list stars in Vancouver's luxury hotels.
As the city with the largest port in Canada, Vancouver acts as the gateway to the rest of this huge nation. Having an Affiliate based in this port city strengthens the operational backbone of a moving company. 'It's mostly about creating options in your supply chain,' is how AMJ Campbell's Finlay describes it.
Although pessimists have predicted the decline of the moving industry post COVID-19 – with more employees using technology to work from home – FIDI Affiliates in the city think this trend has been exaggerated, and they see growth potential for their businesses.
QMM's Fearn says: 'Many of our corporate partners have predicted that their workforce will be returning to the office on a part-time basis by the end of 2021.
'The hybrid model of having employees in the office part-time will again require that they live a commutable distance from their location of work. So, we will probably see a surge in moves as those working remotely relocate to perform their work duties.'
Worldwide Overseas has seen fewer international corporate relocations and expatriate moves – a trend it expects to continue – but 'the pandemic created a huge backlog in inbound immigration, and we believe this will fuel the pent-up demand for housing and personal moves', says Kosa.
Whatever working and relocation trends look like in years to come, Vancouver should remain a great place to be.
The rest of Canada – a snapshot of activity
While Vancouver is the most populous city on the Canadian west coast, there is plenty of enterprise in other urban centres across this sprawling North American nation.
More than 80 per cent of the Canadian population lives within 100 miles of the Canada/US border, which has driven the establishment of major cities and road and rail links along this alignment.
Toronto, which fronts Lake Ontario, is Canada's most populous city. For international moving companies, this city has a more 'corporate' image, as it is home to many Canadian firms and multinational companies that have operations in Canada.
Consequently, the market is often more focused on corporate moves, both in and out of Toronto, including for clients in the financial sector.
Toronto also serves as a gateway to the Atlantic on Canada's east coast. Some moving companies see groupage shipments heading to Quebec, in the heart of French-speaking Canada, and the nation's maritime provinces – New Brunswick, Nova Scotia, and Prince Edward Island – routed through Toronto.
Meanwhile, to the east of British Columbia is Calgary. An energy city, Calgary sits within Alberta province, which is the nation's leading oil and natural gas producer. In addition, Alberta has some of Canada's leading wind, solar, bio-energy and geothermal resources.