Operating out of one of the leading regions of the world for green innovation, Affiliates in Belgium and Luxembourg have been well placed to bring environmental sustainability to the forefront of their businesses. The COVID-19 pandemic has accelerated this process, while Brexit has brought additional challenges, too. Andrew Mourant reports
It's unsurprising that in Belgium and Luxembourg, home to the European Union and its initiatives to help save the planet, moving companies care about going green.
By its very nature, moving means journeys by truck – and trucks have been notorious polluters. In recent years, however, environmental regulations have made engines less toxic. Getting the cleanest fleet possible may not be cheap, but it has become a priority across the industry.
Some commonly adopted measures – for example, a switch to LED lighting – have a clear economic benefit. Others, such as sifting and recycling waste and unwanted furniture is less profitable, according to some FIDI Affiliates – who say they do it for the common good.
One incentive for movers is to meet the standards required to gain their ISO 14001 certificate, with its emphasis on presenting evidence of green measures. Gosselin jumped through these hoops in January, having replaced its fleet and introduced training programmes on 'eco-driving', alongside energy-saving initiatives in its warehouses.  
The company encourages employees to contribute. Some staff have come up with ideas to save energy, while others have thought of environment-friendly ways of packing. April was a landmark month, during which Gosselin switched entirely to virtual surveys. Meanwhile, working from home – a growing trend even before the COVID-19 pandemic – has accelerated.
'We were aware of the need to reduce the commute,' says Madeline van der Rhee, Gosselin's Benelux Manager. 'One success story has been our bicycle lease plan. Co-workers have a healthy way to commute and say they love the extra energy it gives them.'
Gosselin is a big firm, with many external parties involved in the supply chain – including shipping companies and airlines. 'The challenge remains to gain insight into their ecological footprint, too,' says Van der Rhee. Sustainability initiatives are promoted via Gosselin's Going Green cluster group, and it wants business partners to show they are cutting their carbon footprint. Anja Brosthardt, the firm's operations director in Belgium, says that annual evaluation and assessment 'is part of the deal'.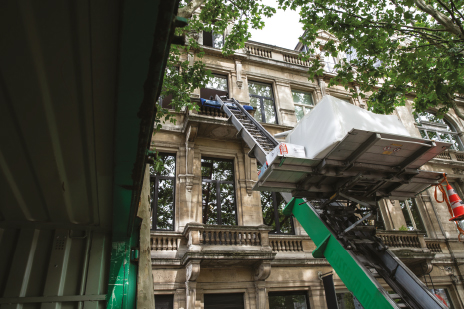 As FIDI Focus was going to press, Gosselin was about to launch its 'supply chain wizard', an operational tool that, among other things, will allow it to focus on reducing the number of empty trucks used by the firm and its partners. Van der Rhee says running empty has a 'huge impact' on the environment, yet offers 'no added value'.
'There's a great role for professional associations such as FIDI to initiate a broader discussion with third parties.' she adds. 'By gaining a better understanding of how they work, we can align our processes with theirs.'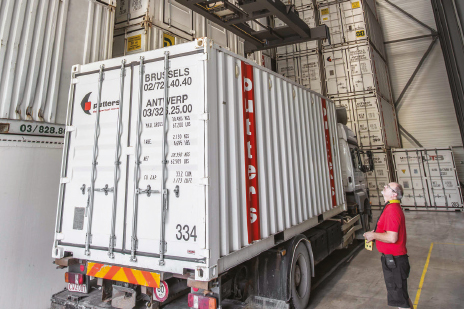 Vehicle pollution is inescapable in a crowded country such as Belgium – one reason for Luc Putters, CEO of Putters International, to switch to low-emissions trucks. He has also considered using solar-powered transport, but thinks adequate power-storage technology has yet to arrive.
For some journeys, Putters has abandoned the crowded roads and switched to using barges. 'We're in an industrial area where the canal from Brussels to Antwerp is just 200 metres away,' he says. 'More and more, our trucks were becoming stuck in traffic jams, and waiting times at the terminals are increasing. There are rules about driving time. If a driver is held up in a terminal or stuck in traffic, you are into overtime. In the past, you could go to terminals without making an appointment and they'd help. Now, you have to book a slot. The port has become more and more congested. COVID didn't help, but we had the problem before.'
Other green measures introduced by Putters include using a special crane to stack containers, which, as it descends or brakes, 'gives back energy' used for producing electricity to power the office. Packing materials are reused where possible, with plastic and much else sorted for recycling.
'When we were moving, people gave us furniture they didn't want and we used to take it to the waste tip,' he says. 'Now, we have companies that pick it up and try to give it a second life.' While his company may save money and waste through fewer journeys to the tip, profit isn't the motive, Putters insists. 'I feel it is the proper thing to do.'
For Max Chorus, Managing Director at Luxembourg-based Streff, clean-running and efficient trucks are a top priority. 'We have a very modern fleet of trucks and packing vans,' he says. 'We check on their engines to make sure they're as good [environmentally friendly] as possible.'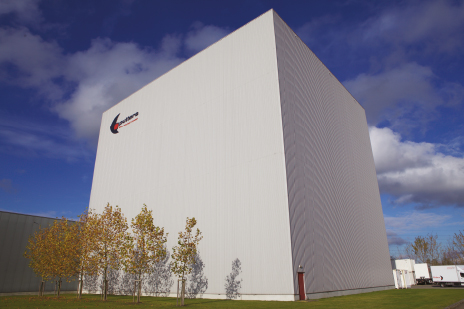 Like Putters, Chorus has pondered buying an electric fleet, but he too doesn't feel the time is right yet. 'The range isn't as good as we need.' Nor is his sales team ready for a switch to electric cars – 'they drive 300-400km and the batteries aren't good enough.'
Streff has long been an inventive packer of household goods. It has designed 'security' boxes for packing fragile items; special boxes to pack awkward shapes, such as standard lamps; and, through its data-protection arm, container collection bins, complete with shredder, enabling sensitive paperwork to be disposed of on the premises.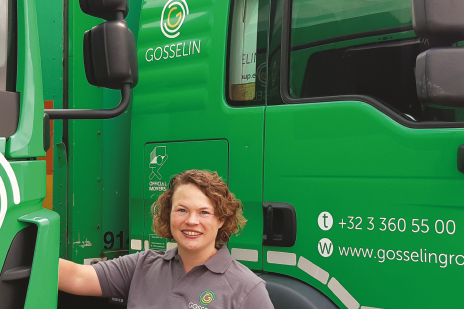 Reusable packing material is also widely used by the company, while Streff's energy-saving measures include better-insulated premises. Switching to LED lamps, meanwhile, has cut the amount of power it uses on lighting by 95 per cent.
'We have a department to sort out waste brought back from our moves – we're authorised by Luxembourg's environmental ministry,' says Chorus. 'Our warehouse has a machine that presses items into containers, reducing journeys to recycling centres.' That technology means, for example, that 30 cubic metres of waste polystyrene wrapping can be compressed into one cubic metre.
Streff was well on the way to cutting its carbon footprint before the pandemic struck. Chorus views it as a matter of social responsibility, which is a driver for AGS Worldwide Movers, too. The firm does its bit to improve air quality not only by replacing old trucks, but also by using smaller, less-polluting vans in crowded city centres such as Brussels and Antwerp. Waste packaging is also put to good use.
'We use it to protect elevators, stairs or floors in office buildings and houses,' Branch Manager Karolien Geers tells FIDI Focus, adding that some clients specifically ask for used boxes 'for ecological reasons'.
Virtual surveys became the norm at AGS Belgium from the first lockdown, in March 2020. Today, it relies on a combination of virtual and physical surveys 'depending on the requirements or expectations of our customers, and the type/size of shipment'.
Home working may have become the norm, but it's not for everyone. 'Some staff prefer to come to the office,' says Geers. 'We have a "rotation system" in place. Where possible, we'll probably keep this in place when the pandemic crisis is over. Traffic congestion has really reduced in Belgium and, hopefully, it will remain at this level. We're happy to contribute.'
Transworld International believes that having a green working environment is good for all concerned. Its offices sit in the green area of Overijse, near Brussels, an area popular with expats and for recreation.
'Our premises are surrounded by nature and an environment created 45 years ago, maintained and renewed by our greenkeeper,' says CEO Fanny Sterckx, who is also President of FIDI Belgium. 'There's a positive effect on air quality and mental wellbeing. People experience less stress.'
All Transworld staff are trained 'in the importance of sustainability and how each individual can contribute', and suggestions are welcomed and implemented 'if possible'.
Sterckx says embracing the green agenda is good for business. It helps improve brand image, creates a competitive advantage, and attracts employees. Belgium, she adds, is 'one of the best in class' worldwide when it comes to recycling. At Transworld, waste has been reduced; materials reused, and anything from paper to electronic equipment and batteries recycled. Surplus old computers have been donated to children, too. 'We felt it crucial for them to participate in online distance learning because of the COVID-19 pandemic.'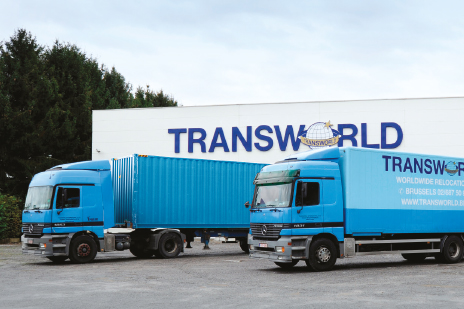 Transworld switched to a paperless office some years ago, which, Sterckx says, 'has brought solutions to unforeseen circumstances'. 'It made our organisation more efficient and home working possible – a tremendous asset last year when government made teleworking mandatory. We were one of the few moving companies in Belgium that didn't stop their operations for one day.'
The number of virtual surveys 'skyrocketed'. 'We still managed to pack, load, store and deliver our customers' household goods, while complying with hygiene regulations and social distancing.'
Alongside renewing its fleet, Transworld has invested in a GPS truck-tracking system. This allows the firm to monitor the status of trucks and crews, while combining jobs and loads more efficiently. There are fewer empty vehicles and the total distance driven has been cut.
Having its own customs bonded warehouse on site at Overijse reduces the number of trips to the customs office – something else that helps cut down on mileage. As a licensed customs agent, Transworld has long experience in the procedures governing two-way shipments between Belgium and countries outside the EU. Which begs the question: how are Belgian movers, so used to regular business traffic with the UK, faring post Brexit?
Chorus is still taking stock of the situation after a busy period before transition ended in December. 'A lot of questions aren't answered,' he says. 'Right now, we have limited demand – clients don't want to pay for a truck to be stuck at the border.'
Geers reports that AGS's regular trade continues 'as usual… mainly diplomatic shipments, for which we work with UK partners'. The firm has, she says, got to grips with all the extra paperwork and customs-clearance procedure. 'Business slowed down for a moment in January, waiting for the chaos to pass, but now all is smooth.'
Transworld claims to be reaping benefits. 'Since January, we've seen a huge increase in customs clearances because of Brexit,' says Sterckx. 'That's come not only from our own bookings or requests from long-lasting partners, but also from agents we never worked with before.
'All the formalities related to transport to and from the UK make it necessary for movers to have a solid back office, so they can guide clients through the paperwork. Our position in the Belgian expat community, plus the fact that many of our competitors don't have their own customs licence, makes Brexit an opportunity for us, rather than a challenge.'