Carl Häggström has travelled a career path that led him from accountancy to logistics, and from Finland to Southeast Asia, to find his ideal vocation in the moving business. Here, he speaks to FIDI Focus editor Dominic Weaver about his recent step – taking on the Group Managing Director role at CFM Alliance, the parent company of Classic and The Family Movers in Singapore
Carl Häggström jokes that he just can't shake off the moving industry – no matter how hard he tries.
He tells the story of how, after a few days' intense work at FIDI's conference in Lisbon, he and another mover drove out of the city in search of a few days' holiday from the business. After flipping a coin to determine their direction a couple of times, and driving for several hundred kilometres, the pair ended up in Albufeira, checked into a nice-looking hotel and sat down in the bar that overlooked the street to enjoy a well-earned beer. But it wasn't long before they noticed some familiar faces – and realised their mystery tour had ended right next door to the OMNI moving conference.
Heading up a relocation business certainly appears to have been Häggström's fate from the outset, with every career choice he has made eliminating something else and bringing him closer to the inevitable.
He started his working life as an accountant at a Finnish car dealership, which he says gave him a grasp of the basics of business early on. However, he realised quickly that his trained profession just didn't give him the human interaction he wanted. 'You don't get to talk much to numbers,' he says.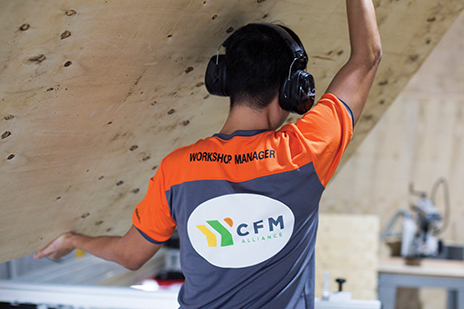 He approached a recruiter, who pointed him in the direction of the logistics business, where, over a period of 11 years, he worked in a series of coordination and management positions, and was responsible for moving chemicals, then parcels, followed by steel coils.
These varied roles gave Häggström a taste for the excitement of international moving and the daily pleasures of tackling and solving problems to get jobs done. However, in 2008, when he was headhunted for the position of Sales Manager at Finnish mover Victor Ek, he accepted the job, intrigued by the challenge of moving people as well as things.
He admits that, at first, he was puzzled by the concept of 'sales' in the moving business. 'I couldn't get my head around it,' he says, 'I thought "Am I supposed to meet these customers and persuade them to move?" I had no concept of the global scale of the industry.'
But it didn't take him long to get to grips with the business and, after a short bedding-in period, he was appointed director of Victor Ek's Moving Division.
The role brought him his first experience of attending industry conventions and other events, and the learning, networking and socialising these bring – and that still play an important part of Häggström's enjoyment of the business today. He says he was 'wowed' by his first FIDI Conference in Rome, 2009, which opened his eyes to what the industry is really about – its people.
'It was a wonderful five days, with wonderful people,' he says. 'There are no industry conferences, no meetings, no forums like the ones we have in moving. It was fascinating and I decided then that this really is something I want to be doing.'
FIDI's Academy, too, has become a regular feature in the development of Häggström's career and his capabilities as a mover. At Victor Ek, he took part in the EiM and MiM programmes in 2009 and 2012. More recently, he has taken part in the LiM in 2018.
Learning at the Academy, he says, has broadened his international network and made him great friends for life. 'Doing these courses helped to cement all the relationships I had started in the industry as a younger man.'
Such international connections, his reputation in the industry and ongoing curiosity about Southeast Asia were instrumental in his next step and, after serving for a period as acting Managing Director at Victor Ek, in 2014 he left to take up a position in Singapore as Country Manager and shareholder of start-up BluFox Relocation and he joined Classic Moving in 2016.
Häggström describes one incident, not long after joining the company, that illustrates the importance of his strong relationships and tenacity. After the team faced an unusual and large escalation on a job, they finished the move and believed they had resolved the issue. However, the RMC unexpectedly red-flagged the business, prohibiting direct bookers from using them as either origin agent or destination agent on that account.
This triggered a process of internal review and relationship repair with the RMC that was designed to demonstrate improvement in their processes and the case for them to resume their business.
Häggström says: 'We had to change and document standard operating practice, correct a lot of processes, and provide case studies and referrals to prove that we had changed our approach. After years of hard work, we got our chance to prove that we have improved on our processes and ways of conducting business, and finally the flag was removed after three and a half years of hard work.'
'I have learned over the years that nothing happens over night… you have to be persistent,' says Häggström. 'You need to work tirelessly every day, every week, every month to make sure you are doing the right things, and that you are constantly improving… you can never afford to assume that you can't get better. If you are not booking business, you need to do more and keep pursuing your goals until you reach them.'
It's this kind of attitude that led to his promotion, at the end of 2020, to Group Managing Director of CFM Alliance, the umbrella organisation created in 2018 to bring together four moving and relocation businesses, Classic Systems, DSP Relocations Singapore, Classic Moving and The Family Movers (only the latter two being FAIM certified). Operating out of Singapore, the group runs end-to-end relocation services, with the backing of FIDI FAIM and other industry certification, EY auditing and its membership of global associations such as Harmony Relocation Network.
As he settles into his new position, Häggström's experience and training has shown him that successful leadership is about recognising that his role is one of service, to company employees as much as customers.
'The Managing Director works for the staff, not the other way around,' he says. 'It is my responsibility to provide the best possible conditions for all staff to succeed as an employee of the group.' This includes removing obstacles to staff members' professional development, making sure they 'are in the right place at the right time' and helping them 'concentrate on the important things'.
In times of crisis – none more so than the pandemic – these 'important things' are primarily related to looking after employees' wellbeing. Taking this inside-out approach across all branches of the company sets the group up for serving its clients well, he says.
'Last year serves as an example that the world can be a strange place, and everyone can use an act of kindness or a little help every day. When we adapt this culture of helping each other, eventually this is passed on to our clients and agent partners around the world,' says Häggström.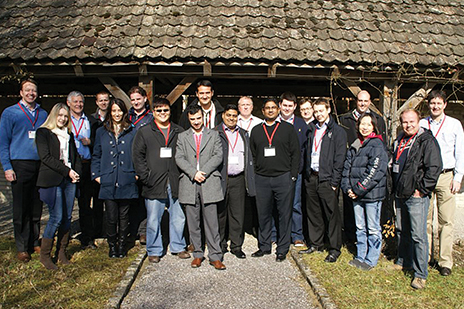 Evidently the business has thrived during a time of exceptional crisis, with revenue growing across the group between 2019 and 2020. 'We were faced with a challenge beyond imagination, but we adapted to the circumstances,' says Häggström.
'Moving forward, we need to recognise we have multiple companies in the group and my job is to maintain a synchronised approach to things and ensure that we are communicating and benchmarking across the board. Every company in the group is unique and has its own strength, and my job is to ensure synergies are beneficial for everyone involved while maintaining a friendly competitive environment that drives each business to better performance.'
After 14 years working in the moving and relocation business, Häggström says he has absolutely no intention of going anywhere else.
'There are times in every mover's life when they think "how do I get out of this industry?" but I haven't seriously considered leaving the industry once during my years in it,' he says. 'I learn new things every day. It can seem sometimes as if we find new ways to make it complicated for ourselves, but for me the satisfaction comes from solving these challenges – and making a straight line from A to B.'
Carl Häggström CV
1995 to 1997 – Accountant at car dealership
1997 to 2001 – Traffic Coordinator for chemical transports in tank containers – Traffic in Europe and to and from Russia
2001 to 2006 – Sales Manager of team of 24 sales reps and in-house sales reps at a parcel transport company for domestic traffic
2006 to 2008 – Sales Manager for a company that transported steel coil within Europe to and from Finland
2008 to 2014 – Sales Manager, Director of Moving Division and Acting Managing Director of Group for Victor Ek
2014 to 2015 end – Country Manager and shareholder 0f BluFox Relocation
2016 to 2020 end – Classic Moving
2020 end to present – Group Managing Director of CFM alliance
With thanks to…
Carl Häggström on some of the people who have inspired and helped him in his moving industry journey.
Jesse van Sas, FIDI – 'Jesse was the trainer at my first seminar with the FIDI Academy (EiM 2009); and the second one, too, the MiM. He has always been there to support and share opinions on industry-related topics and has become a good friend over the years.'
Bengt Jönsson – 'Bengt is former shareholder of Alfa Quality Moving and the person who made it possible for me to work in Asia. He has been a bit of a mentor for me and has introduced me to a lot of people in the industry.'
Paul Bernardt and Maurice Bijleveld – 'These are my dear friends from the Harmony Relocation Network. Without them I would not have had the pleasure of getting to know so many Harmony members – Classic Moving might not be a Harmony member today if it were not for them.'
Charles Leo – Executive Director of The Family Movers and DSP Singapore. 'I have known Charles for 13 years. He was the one who welcomed me to Singapore when I first got here, and he has been crucial in my journey to making Singapore my home country. I now have the pleasure of getting to work with him as part of the management team of CFM Alliance.'
Brad Street – 'Brad and I got acquainted in 2015 and it has been an absolute pleasure working with and for him for the past five years. Without Brad, I would not be where I am today and I have learned so much from him since we got to know each other.'