From the beginning, SIR Move Services co-founder Shyla Mathews' career has followed a steep learning curve that has seen her know-how develop from her original marketing and communications background to cover every aspect of the moving business. She speaks to FIDI Focus editor Dominic Weaver about developing an award-winning business and why, above all else, high regard for her customers and staff has been vital to success
When Singaporean Shyla Mathews embarked on her career in moving, she did so with a clear destination in mind: she would develop her background in marketing and communications to focus on this aspect of the business.
Accordingly, she took her first role heading up the marketing for Four Winds Logistics Services and ERA Moving Services. However, after she was contracted to help set up AGS Singapore and then, in 2006, set up SIR Move Services with Charlie Scott a British public relations professional, Mathews quickly and necessarily found herself broadening her responsibilities across the moving process.
'As a co-founder, you put on an entrepreneurial hat, which means you end up doing everything,' she says. 'In the early days, I was on job sites packing and managing moves – and this was when I was a younger mum with babies at home.'
The venture has seen Mathews gain first-hand experience of all facets of the moving process, from packing, move coordination, mobility, finance, and general and business management – most recently focusing her attention on innovation and training for the business.
Mathews says, together with Scott, her aim has been to develop consistent high quality across the company's service portfolio, which includes international, domestic, home and commercial moves, international air deliveries and pet moves. SIR Malaysia was added to the company group in 2016. SIR Singapore has won several business awards and was one of FIDI's FAIM Top Performers last year.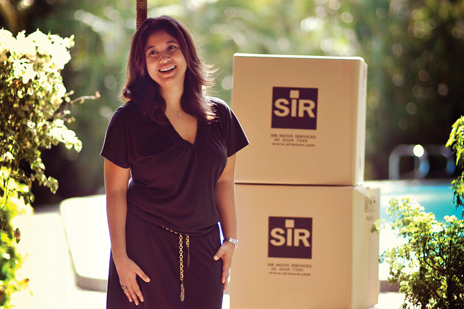 SIR is not an acronym says Mathews but is an expression of the central role that respect – for its staff, customers, and partners – has played since the company's inception. 'This is a very personal business and how we interact and connect with various audiences makes all the difference. I call this the wow effect,' she says.
Mathews says that although more women are joining the industry and the numbers of opportunities are increasing, particularly in the past five years, it remains predominately male. But, she adds, there has been a healthy interest in joining the business from younger recruits – alongside the continued surge in global mobility providers that have changed industry dynamics.
She says the company has had to respond to stay relevant to customers and potential employees. 'A lot of brick-and-mortar movers like us have had to upscale to meet the growing needs of a more sophisticated workforce,' she says. 'New technology has also taken a prominent role in the changes.'
COVID-19 has driven the adoption of industry tech solutions further still and, while SIR introduced virtual surveys more than two years ago, the pandemic has necessitated diversification into technology-led services for other parts of the moving process. 'Managing customers' concerns should be our top-most priority,' she says. 'With so much that has been learnt about how we can do things differently – like remote working, virtual management, and so on – I definitely see new technology taking a more pivotal role in the next few years.'
Of course, technology has required investment, so alongside the added health precautions and protocols that have been required, and generally longer job times caused by limitations on crew sizes permitted on sites, costs to movers have increased. Mathews adds: 'Of late, we have also seen air-freight and sea-freight rates increasing, sometimes with very little notice.'
Expat hubs such as Singapore are bound to feel the impact of COVID-19 keener than most, and she expects the coming year will see increased outward movement of people 'as they get retrenched and companies are cautious about expatriate hires'.
Despite the recent challenges, Mathews is optimistic and believes that normal workforce movements will resume once the market is confident that the pandemic is under control. This outlook and resilience run through the company, she says. 'I have been managing SIR for 14 years and we have a very experienced team that went through the financial crisis in 2008 and the downturn of the oil and gas industry in 2016.' This attitude serves the business particularly well in Singapore, where competition is intense and is increasing with disruptive new entrants all the time.
However, Mathews says experience has shown the best strategy for keeping ahead is straightforward. 'I have learnt the importance of focusing on your core strengths and the things that we do that make a difference to our customers,' she says. 'We have always put the customers' needs first and we will continue to do so. Staying true to your vision and having a user-centric approach to innovation has enabled us to remain relevant and competitive in Singapore.'
She adds that keeping a sense of balance and not 'sweating over the small things' is essential. 'There are some things you cannot control,' she says, 'but you can definitely control your reaction and response.
'The industry can be unpredictable because of the dependence on manpower for the very nature of what we do and with that a bag of many "what ifs".' But despite knowing that working with people can be a source of stress, she adds that, ultimately, nurturing a strong team is the number one key to success and all-round satisfaction.
'You are the sum of the people around you,' she says, 'and I have been blessed with some of the best human beings who have sacrificed so much over the years. Take care of your people – and they will take care of you.'