Having fronted moving operations focused on India for almost 25 years, Payal Singh was appointed Regional Business Development Director for the AGS Group across the Asia region, in April this year. Dominic Weaver finds out why her career took off quickly and how the airline industry's loss became moving's gain
Payal Singh says she has yet to meet anyone in moving who joined specifically because they wanted a career in this industry. She certainly didn't.
'I had no idea what I was getting into – and I certainly had no plans of sticking with it for 24 years,' she says.
In fact, Singh once set her heart on seeing the world as an air hostess. But when she realised that she didn't make minimum height requirements, she set about finding other ways to achieve her goal.
First, she took a travel and tourism course and from there joined Taj Hotels, one of India's best hospitality companies. It was the training and experience she gained there that really set her up for a job in moving, she says, giving her a distinct set of skills not shared by everyone in the industry. 'I have realised those of us [in moving] who have worked in hospitality are different from those who come from other businesses,' she says.
'It's about putting the customer before sales and really looking after the people you are servicing,' she says. 'It not just about profits, it's about looking after their interests.' She adds that even today she uses this fundamental principle 'very, very frequently' in her day-to-day work.
Singh took on her first industry role in 1997, in the PR, sales and marketing department of Indian mover Packways International. Here, she gained broad moving business experience, but also learned quickly that she enjoyed it so much she wanted to start her own company. After just a year and a half, she did just that.
The working dinner
Singh and an investment partner decided 'literally around the dinner table' to embark on this new venture, giving themselves six months to make it a success. The new business, Trinity Removals, took off and Singh didn't look back.
Travelling with the business became more regular and, in 2005, Singh attended the HHGFAA (now IAM) conference in Washington DC and approached AGS about working with the company. Instead, they made her an offer to buy Trinity Removals.
She admits to having initial reservations about giving up her 'baby', but quickly found a strong rapport with AGS and understood the benefits to her and her staff of making a deal.
'At the time, I had three branches in India and more than 70 people working for me,' she says. 'I realised the great shelter a larger group can provide for these people, which I didn't think I could. It made practical sense to give the company to a larger group and for me to then hang around for as long as I could.'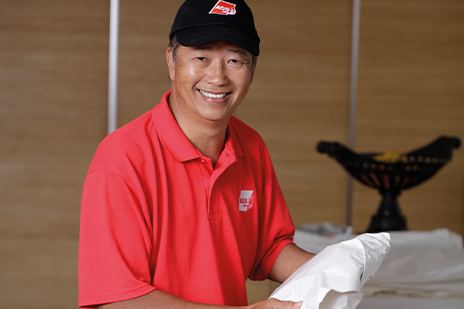 Singh continued to run AGS's operations in India for 15 years from the deal, something she says illustrates the strength of the relationship between the two parties. Then, in April this year, she was appointed Regional Business Development Director across Asia, a strategic role that will see her tasked with building the AGS brand and customer base in the Asia region.
Despite having mixed feelings about leaving the office out of which she has worked for more than two decades, the change makes sense, she says. 'It's nostalgic. Some of the people who started with me in my company are still there, so it's not easy. But I also think it's time because I've trained these people, they know the company well. So, it's time to cut the umbilical cord.'
Back on the road
The new role will require a lot of travel between AGS's 25 offices in the region. However, after the COVID-enforced hiatus, Singh says she is looking forward to this. Her husband also works in the travel business and her son is now 20 years old and studying overseas, so her family is used to being mobile.
Singh now has responsibility across 20 countries, each with its own culture and way of working. However, she has a good foundation to face this challenge.
'Having run the five offices in India is going to be handy, because even within this country people speak differently, behave differently, eat different foods,' she says. 'Within Asia, culturally, economically and socially people think and behave differently, so we can't have one rule for driving everything. I have to study every market, every country, and come up with a strategy for each of these locations to measure where we stand and where we want to go.'
Changing our mindset
These strategies will also need to take in the changes in moving globally since she started in the business. 'When I joined the industry, it was progressing brilliantly. Countries like ours were still getting used to it, but elsewhere it was in a really good spot… and it was a good industry to be in from the money point of view,' she says. 'But the customer base has shifted in the past 10 years. You have more organisations and people looking for our services, but they want to pay a lot less for them. So, they want the best service, but they don't want to pay as much.'
She adds companies that understand and are responding to this change are still doing well, while those still wedded to the idea of large returns for each move have begun to fall by the wayside. 'Every industry goes through the same cycle and moving hasn't had anything exceptionally different. I don't think we have anything to worry about… but we have to change ourselves to this change in the customer mindset.'
A family business?
So, given this, would Singh advise her son – currently studying sports coaching in the UK – to choose moving as a career?
'I don't think so,' she says emphatically. 'Moving is an amazing business. It's very exciting and those of us who cannot live with monotony are a perfect fit. But it's an exhausting business, too. I would like him to do what he wants to do, rather than getting into moving just because I am a mover.'
And, in the meantime, she will continue working in the industry she loves according to two mantras.
'Number one is that there is no substitute to the hard work you put in; nothing can replace this.
'Number two is that you are your only competition, you don't compete with anyone else. And it's the same when you're running a business.'
Advice for a younger mover
When one of Payal Singh's first sales assignments took her to the HR department of Coca-Cola, nerves
got the better of her, and when she was asked if she wanted a drink, she replied 'No thanks, I've just had a Pepsi'.
Thankfully, the event didn't damage the relationship and she eventually won the contract, but Singh says it's a good reminder of the lessons she has learned during almost 25 years.
'I'm not such a business-minded person, I've just been doing what I've been doing,' she says. 'You should listen to people who are older than you and have done more than you. If you have someone who has been in business longer, just listen to them. They've got the experience, it doesn't all come from the books or from education.'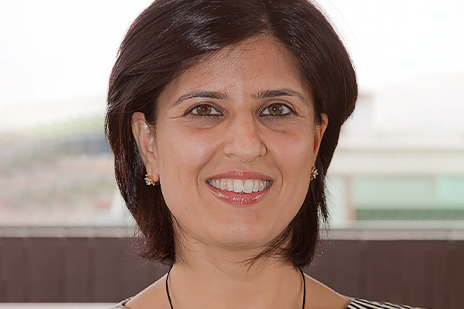 Nevertheless, she does try to stick to three fundamental principles she learnt at business school: to create employment, to serve society and then to make profit. 'I think if you function on those lines, you don't do a bad job,' she says.
She adds that she would advise her younger self to be more business-minded and less emotional on the business desk.
'Just do your best,' she adds, 'and just give your very, very best. And there will be no looking back.'
Payal Singh on equality
Singh says real gender equality in business affords similar job opportunities for everyone, while recognising and benefiting from the different traits men and women bring to a company.
She says: 'This is a subject with a lot of paradoxes. We feel that men and women are equal, but the reality is they are different – and they're not really competing with each other.
'In most situations in the business world, in spite of identical education and identical training, I think men
and women react differently, they behave differently. They take decisions differently.
'So, when it comes to the human side and the compassionate side, I think women slightly take an edge – not all women, but most. But for speed of decision-making or sometimes taking the path of decision, maybe men do a better job.
'I think the world needs a little bit more genuine equality. I am not looking for a seat at the table just because I'm a woman, but don't treat us differently to a man when you're hiring, when you are training, or when you're awarding business. 'You need both aspects of thinking. If a board is full of men and very few women – or vice versa – it would be a very imbalanced decision making process.'
Payal Singh – career timeline
1993: Graduated
1993: Studied travel and tourism
1994: Worked in a travel company and The Taj group of hotels
1995-1997: Hospitality training, studied work ethics and learnt the importance of organisational culture
1997-1998: Packways International Movers
January 1999: Started Trinity Removals
Oct 2005: Met AGS management at the HHGFAA conference in Washington DC
Dec 2005: Approached by AGS Group about bringing in Trinity Removals
April 2006 : Trinity Removals sold to AGS
April 2006-2021: Managed AGS India as Country Director
April 2021: Appointed Regional Business Development Director for the AGS Group in Asia