Becoming President of Sterling Lexicon is the latest and, he says, most exciting role in David Dance's extensive career in moving and relocation. FIDI Focus speaks to him about the challenges and achievements so far, his plans to advance the company's development into an end-to-end service provider, and the importance of bringing people together
For all the 'challenges and wonderful opportunities' that he has taken up in different sectors of the moving and relocation industry, Sterling Lexicon's David Dance says none has been as exciting as his new role as President of the Jacksonville-based business.
Dance takes on the position just two years after serving as President of Sterling Lexicon's Americas division, and is now responsible for overall strategic development of the business, driving revenues and profitability, expanding operational and technology capabilities, and improving the overall client and transferee experience.
'We have made great strides in a short amount of time, and I can't wait to see what the future holds for this company,' he says.
The foundations of Dance's moving industry career were laid at Cartus, which he entered 'as an outsider' to the business and where he quickly sought out the talent from whom he could learn.
'My background was in accounting and finance,' he says, 'but by finding exceptional mentors, I was able to acclimatise myself and, eventually, thrive within this complex and ever changing industry.' The experience taught Dance the value of other people in developing not only his own capabilities but also the performance of the business in which he has worked.
'The key for me was recognising my limitations and embracing the knowledge others had to share – which is why I consider it so critical to have a strong team to collaborate with,' he says.
'We all have different strengths, and when we embrace the knowledge of others we can cultivate a truly exceptional outcome.'
During a decade with Cartus, Dance took positions of increasing responsibility, culminating in the role of director of global supplier relations, before heading to Suddath's international division, to serve five years as vice president of finance and strategic development. He then joined California-headquartered Paramount Transportation Systems for six years before returning to The Suddath Companies with his appointment at Sterling Lexicon in 2018.
Dance is particularly proud of how his team's strategic initiatives have facilitated growth and profitability in the Sterling Lexicon business, while establishing financial and compliance controls.
'This has allowed us to achieve profitable organic growth without sacrificing service standards,' he says. 'Our commitment to customers is that we focus on optimising the intersection of people, technology and service, and continue to build Sterling Lexicon as a leading, end-to-end relocation and moving company.'
This, and many of his other accomplishments, Dance credits again to the power of a strong team focus. 'This approach recognises colleagues' individual strengths and brings them together to build a successful team. Nothing is stronger than a group of industry-leading minds coming together in support of a common goal,' he says.
We all have different strengths, and when we embrace the knowledge of others we can cultivate a truly exceptional outcome
COVID-19 forced Dance and the team at Sterling Lexicon to make significant and rapid changes to its services to ensure it continued to meet customers' needs while looking after their safety and the safety of the company's staff. This has included the acceleration in the adoption of connective technologies to allow staff to work away from the office.
'A new essential part of our daily lives has been the remote workforce, and we have put a heavy focus on increasing protective measures throughout this pandemic,' says Dance.
'Technology is already a significant part of our industry, and it will play an even more integral role in keeping the industry moving forward during this pandemic and beyond.'
He adds that technologies that once sat in the margins of the business – including Teams, Zoom, and FaceTime – now have a more regular role to play in shifting services previously carried out in person, such as client reviews and surveys, to virtual provision, helping keep the relocation process moving while restrictions remain in place.
'These new virtual systems enable us to continue providing quality service. When the pandemic is behind us – whatever that actually looks like – it is likely that many of these interim measures will become a part of the new normal,' he says.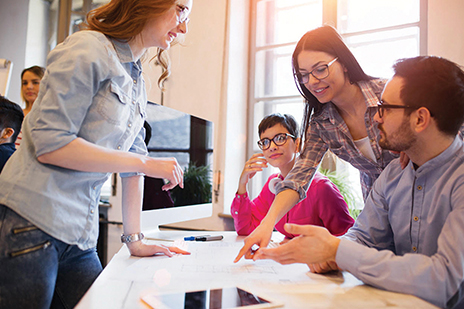 Despite concerns voiced in many businesses at the outset of the pandemic about the ongoing viability of the new working environment on working culture and performance, Dance describes the changes made as a 'great success'. He believes this is the product of solid dynamics that existed within the office before the pandemic.
Overall, says Dance, the business has had to remain incredibly adaptable in the face of COVID-19, and the hurdles it has presented in the form of international travel restrictions, mandatory quarantines, recommended limitations to movements and reductions in the capacity of aircraft. 'The most successful practice for handling these types of obstacles has been taking a flexible approach and reviewing each case individually – there is no one-size-fits-all approach to situations like this,' he adds.
Aside from all this, there is plenty of ongoing work to attend to within the business following Lexicon's acquisition of Sterling Mobility in 2018, and the subsequent integration of Suddath's international forwarding business. 'This has provided Sterling Lexicon with a strong global foundation from which to grow,' says Dance. 'Over the next five years, we will continue to look at strategic acquisition targets as a means not only to grow our client base and revenue, but also to accelerate the development of our mobility service offerings.'
Technology is already a significant part of our industry, and it will play an even more integral role in keeping the industry moving forward during this pandemic and beyond
This will include a ramping up of technological development within the business, he says. 'As a leading provider of optimised global mobility services, we see offering the latest in technology as a large part of what we do. An investment in technology ensures we continue to be a leader in the industry and provide our clients with top-of-the-line technology that saves clients time and makes their relocation process smoother.
'Corporate relocations can be exceptionally stressful for all parties involved, especially during a global pandemic. That is why we are always evolving, and constantly looking for the newest and most innovative ways to streamline operations, provide critical insights, and minimise the risk of errors.'
From here, Sterling Lexicon's primary goal is to optimise the global mobility experience for its clients. 'We do it by offering best-in-class service, a vast global footprint, and vertically integrated services, such as moving, destination services and immigration,' says Dance. 'We are always growing and creating new opportunities for how we can provide expert consultation and strategic insights to our expanding client base.'
Strategic acquisitions, new technologies and enhanced service offerings all have a central role to play in these developments. Dance says: 'We have all the key ingredients to create the right mix of solutions to empower our clients – keeping us ahead in the industry and delivering world-class experiences to customers around the globe.'