With compliance requirements for international relocation on the rise and presenting significant challenges for movers, FIDI has launched the Corporate Compliance & Ethics Guidelines. This new document complements the existing FIDI Professional Cooperation Guidelines (PCGs) and provides a straightforward approach to understanding and meeting your obligations in this vital area. By Nick Kerr, PCGs Committee Chair
Compliance and ethics are central to industry integrity and best practice. These two vast topics may seem daunting, but their importance in your day-to-day business cannot be overstated.
The increase in compliance requirements from corporate clients and business partners over the past years is one of the main challenges that FIDI Affiliates are facing, and navigating the waters of international compliance issues is the source of great frustrations for many.
To help FIDI Affiliates find common ground and define best practices applicable to the international moving business, FIDI has decided to bolster the existing FIDI Professional Cooperation Guidelines (the FIDI PCGs) by launching the Corporate Compliance & Ethics Guidelines. This new set of guidelines aims to provide you with an easy-to-follow roadmap adapted to our industry, and offer clarity on this complex subject.
The FIDI Corporate Compliance & Ethics Guidelines have been developed with the appreciated contribution of the FIDI PCGs Committee and are now available to FIDI-affiliated companies. They sit alongside the PCGs, with a clear focus on corporate compliance.
As such, these new guidelines offer a broad overview of key compliance subjects applicable to all businesses, regardless of their size or location. The guidelines will help companies review and integrate compliance and ethics into their own internal policies and procedures.
The FIDI Corporate Compliance & Ethics Guidelines cover the following key elements:
Employment policies
Background checks – employees and subcontractors screening
Access control
Health and safety
Environmental policy
Anti-bribery and anti-corruption
Anti-trust and competition law
Certificates, permits and licences
Supply chain compliance
Risk management and business continuity
Corporate social responsibility
Code of ethics
Marie-Pascale Frix, Business Intelligence Manager at FIDI, who manages the PCGs project, says: 'We recommend that all movers consult and apply the best practices outlined in both the PCGs and the new FIDI Corporate Compliance and Ethics guidelines.'
'The aim of the new guidelines is to promote best practices and enhance professionalism in our industry. Together with the PCGs, they will help to bring clarity to the contractual relationship between movers, setting appropriate expectations of professionalism and integrity from the onset of a business relationship. This will hugely benefit our industry at large.'
What is the relationship between the FIDI Corporate Compliance & Ethics Guidelines and FAIM?
'First written in 2019 as an aid for applicants to meet the mandatory FAIM requirements, the FIDI Corporate Compliance & Ethics Guidelines are now a standalone document, intended to serve as a generic industry guide for corporate compliance', says YB Ng from the team leading the PCGs.
'They have gradually evolved over the past two years, to meet the growing complexity and range of topics. FIDI has decided to formalise these guidelines, which will be continuously reviewed and updated, alongside the PCGs, to ensure ongoing relevance for the international moving industry.'
Both the FIDI PCGs and the Corporate Compliance & Ethics Guidelines are standalone and non-mandatory. As such, they are not part of the FAIM compliance procedure and the related FAIM requirements. Compliance with all FAIM requirements is compulsory to be affiliated to FIDI, and all FAIM-certified companies are regularly audited by an independent third party, currently EY.
The Corporate Compliance & Ethics Guidelines, on the other hand, are to be used as a dynamic guide for companies when developing their own policies and procedures, examining local and international regulation, to help companies on their compliance and ethics journey.
The guidelines can be downloaded from the My Business Tools library on FIDINET (access reserved to FIDI Affiliates)
The key differences between FAIM requirements and FIDI industry guidelines for FIDI Affiliates are as follows: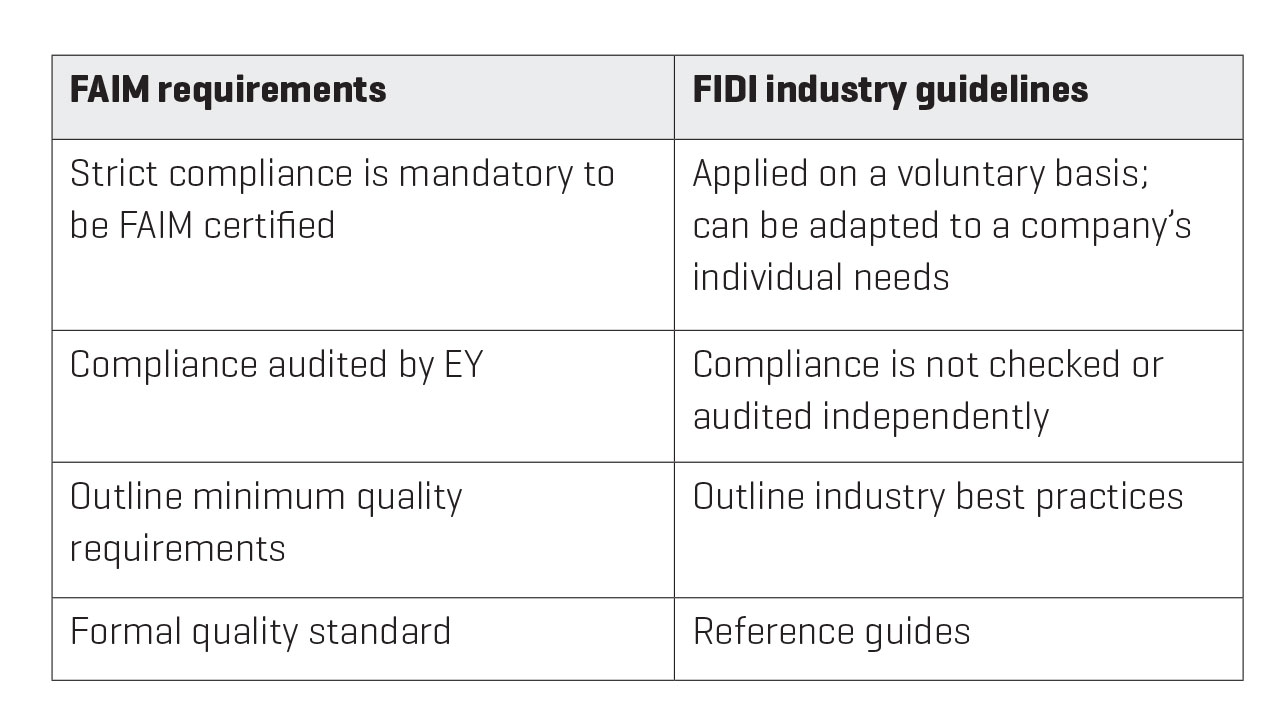 What's the benefit for you?
By Max Chorus (Streff Luxemburg), PCGs lead team
We live in a world where we need to understand and adapt to new business rules constantly. In an international context, these ways of doing business are naturally aligned with different cultures, societies and circumstances.
As members of FIDI, our companies operate across the entire international spectrum – and it helps immensely to establish a common foundation and agree on broad guidelines for working together in partnership.
Let's not forget that our customers increasingly ask us to make statements about our company's compliance guidelines. We are often forced to accept our customers' guidelines if we do not have our own rules and guidelines to show.
Many of the points set out in the new guidelines have been taken for granted by FIDI companies for years, and some of them are new. Having this generally valid framework between FIDI partners allows us to be prepared for what our clients will expect from us into the future, and to work together as a FIDI community with a good, shared understanding of international compliance issues.
We would like to thank the PCGs Committee and its lead team (**) for their commitment and contribution to this project. 
Thank you to:
Rasheed Ali (Four Winds)
Gordon Bell (Asian Tigers Singapore)
Laura Busettini (Vinelli & Scotto)
Alastair Cowan (Gosselin)
Max Chorus (Streff) (**)
Arthur Drewry*
Thomas de Mallmann (AGS)
Nicki French (Grace)
Miguel Florez (Aviomar)
Melissa Gerke (Transworld International Removals)
Patrick Goh (Asian Tigers Singapore)
Nick Kerr (Gosselin) (**)
Steve Lewis (Voerman)
YB Ng (Asian Tigers Hong Kong) (**)
Simone Percy (Oman Beverly Smyth)
Ilan Rebibo (A. Univers Transit LTD)*
Alvaro Stein (Decapack)
Rene van Valen (Gerson Relocation)
John Warlick (Hilldrup International)
If you are interested in joining the PCGs Committee, email marie-pascale.frix@fidi.org