Canada has become the world's most popular country for people looking to work abroad, according to a new report by Boston Consulting Group (BCG).
The Decoding Global Talent study, of almost 209,000 people in 190 countries, showed most of the countries that had fallen lower on the list – including the US (number 1 in the past two studies), France, Italy and Spain – were perceived to have struggled to control the impact of the pandemic at some point. A release from the company said: 'Europe's public health struggles may have also affected Germany, a better pandemic manager whose ranking nevertheless declined.'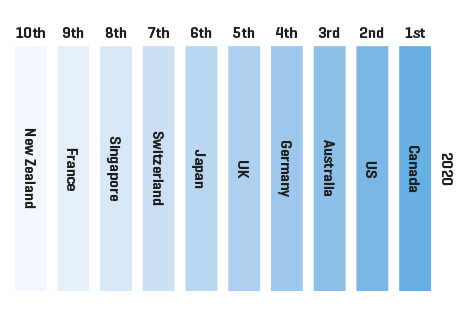 Those countries perceived to have managed the COVID-19 crisis better have seen an increase in popularity. These include Japan, which rose four places; Singapore and New Zealand, both of which made a debut appearance in the
top 10 list; and Canada, which moved from its previous number three spot to number one.
The report added that Canada is also the leading choice of destination for those with Master's degrees and doctorates, for those with digital expertise and for those under the age of 30.
Meanwhile, the percentage of people either working abroad or willing to work abroad fell significantly. When the study first took place six years ago, almost 64 per cent of people said they liked the idea. The latest figure is just above 50 per cent.
Some 57 per cent of respondents said they would be 'willing to work remotely for an employer that doesn't have a physical presence in their home country', demonstrating a new model relating to 'overseas' working.
The study first took place in 2014 and again in 2018. It is available to download from the BCG website.